Student Success: Two Students from MCC's WiSTEM Program Attend "Bridging the Gap Program" at UConn
Manchester, Conn. (July 12, 2017) – Maussi Arrunátegui and Nicole Kuykendall, two of six students enrolled in the Spring 2017 cohort of MCC's Women in Science, Technology, Engineering and Mathematics (WiSTEM) program, were accepted into the Bridging the Gap program.
Bridging the Gap is funded by the United States Department of Agriculture. Selected Connecticut participants attend a 10-week program on the campus of the University of Connecticut, where they focus on food and nutrition via either laboratory- or community-based research placements. Each accepted student receives a $3,500 stipend plus room and board for the summer.
As participants in this summer's program, Arrunátegui and Kuykendall are broadening their interest in nutritional science.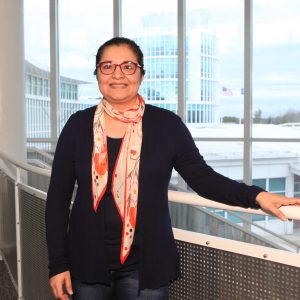 Arrunátegui is currently learning about the dynamics of the research-lab environment as she trains in lab safety, working with research animals, radiation safety and bioethics. Her stated goal is to "feed the world" as she looks for new ways to grow food in various types of agricultural settings.  She is also learning about careers in nutrition, such as teaching, working with the community, doing research, studying sustainable agriculture or working as a registered dietitian.
Kuykendall is currently working in a biomolecular laboratory, assisting graduates with their research dealing in lipid metabolism, lipoproteins and intestinal physiology. Outcomes of these experiments will help treat health issues such as cardiovascular disease, diabetes and obesity. Nicole is interested in nutrition, biology and food science.  She wants to change the way the people eat and think about food.  She cares about how food is grown and harvested, and she is interested in the nutritional consequences of various growing techniques and chemicals.  By incorporating her love for nutritious food with a science background she strives to teach people how to eat more nutritiously.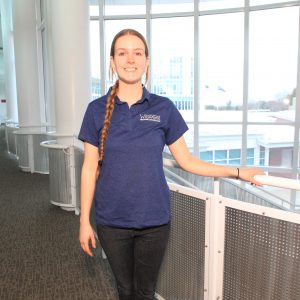 MCC's  WiSTEM program is a recent addition to MCC's First Year and New Student Programs, which also includes the FIRST Scholars Learning Communities (visit: www.manchestercc.edu/wistem).
The program is funded in part by a grant from the Aurora Foundation (www.aurorafoundation.org). Every women in WiSTEM has the chance to learn, network and grow together on and off-campus. Students learn to deal with personal responsibility, stress management, collaboration, self-awareness and community-building. The program is currently recruiting for the Fall 2017 cohort.
Jessica Zolciak, WiSTEM program coordinator and instructor, said, "Our mission is to immerse our students in experiences that further ignite their excitement for STEMfields and then give them the tools they need to be successful in life, which includes life in the classroom."
And life in challenging learning environments outside the traditional classroom as well, according to Arrunátegui and Kuykendall.
"Being in the program has helped me to change my mind about higher education," said Arrunátegui, a native of Peru. "I came to this country to pursue an associate degree. I was at Manchester Community College not knowing whether a higher degree was doable, and now I am aware of scholarships and programs that will help me. I am 42 credits away from my bachelor's degree and also thinking about getting a Ph.D. in science. My life choices changed after I was aware of everything that is out there to help somebody who is not afraid to study hard and live new experiences."
Kuyendall said, "The WiSTEM curriculum encourages exploration of one's character. The work focuses on feelings, motivation and desires. It can sound daunting, but it's hard not to be inspired when surrounded by other strong, creative women."
About FIRST Scholars Learning Communities — FSLC (First Scholars Learning Communities) is for first-year, full-time students ages 17 to 21, who want to connect with other MCC students, faculty and staff who share the same passion for an academic subject or career interest. The other communities formed in the FIRST program are Academic Exploration (for undecided students), Business and Entrepreneurship, Criminal Justice and WiSTEM.