Student Success: Rachel Watts Selected to Attend Student Leadership Development Program
MANCHESTER, Conn. (June 19, 2018) – Rachel Watts, a student in Manchester Community College's radiation therapy program, is attending the national 2018 American Society of Radiologic Technologists (ASRT) Educational Symposium and Annual Governance and House of Delegates Meeting, which runs this week through June 24. Her experience there is part of her participation as one of two students in Connecticut selected for the ASRT Student Leadership Development program, which offers students a chance to get to know the ASRT, attend educational sessions and network with medical imaging and radiation therapy professionals.
She says the opportunity is one of several that have underscored the personal rewards following her decision to leave a position in the business world and change her profession to radiation therapy – a decision that came out of a painful experience.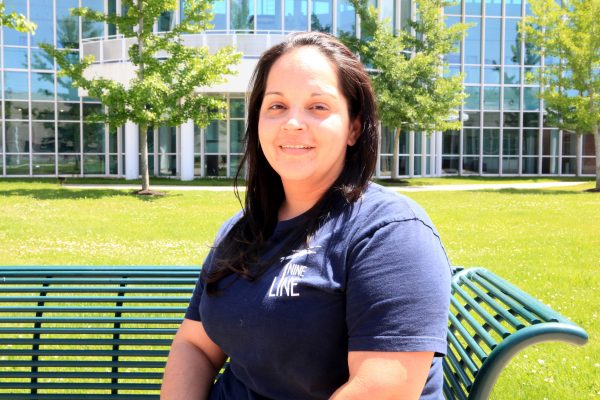 When Watts and the rest of her family had to face the hardship of watching both of their parents battle cancer and ultimately lose, she called it an "eye opening" experience that made her want to do something more meaningful with her life. "Watching the process my parents had to go through wasn't easy for me, but it made me want to go back to school and pursue something with more of a purpose."
She added, "I've been the boss before, I've been the person telling others what to do, and I don't want that anymore. I want to interact with the people I'm helping."
Watts will bring to the national conference all that she learned after attending her first Connecticut Society of Radiologic Technologists conference (CSRT) last fall. CSRT is the affiliate for the state of Connecticut within the ASRT. Its mission is to provide state of the art education, communication and legislative representation for the field or radiation technology — while creating public awareness of its practitioners' integrity, professionalism and humanitarianism.
"This opportunity to hear about the technology in a growing field is unbelievable to me," she said. 'I'm really excited to be a part of this conference. All the knowledge and education to be absorbed is overwhelming but exciting. I think that it will further assist me in my future as a soon-to-be radiation therapist."
Watts attributes much of her success as a student to MCC's radiation therapy program and the college as a whole, with its opportunities for hands-on experience.
Radiation therapists work closely with cancer patients, operating highly sophisticated computerized equipment delivering the doses of radiation to cure cancer while providing patient care to meet the physical and emotional needs of the patients. Equipment has become so complex and automated that it is challenging for students to learn the advanced techniques used to treat patients.
MCC is the home of VERT, a three-dimensional software tool allowing the visualization of a virtual radiation therapy room. It allows students to practice, explore and investigate treatments before encountering a real clinical situation. Students can develop skills that can then be applied to the real clinical environment. MCC has the only VERT in Connecticut; Watts takes advantage of it every chance that she has.
About the Radiation Therapy Program – MCC offers a two-year, five-semester associate degree program in Radiologic Science with a Radiation Therapy option that is accredited by the Joint Review Committee on Education in Radiologic Technology and is designed to prepare individuals for employment as a radiation therapist. The coursework provides the didactic and clinical education necessary to apply for the American Registry of Radiologic Technologists (ARRT) registry exam. Once students have received certification from the ARRT and successfully completed the national exam, they will be eligible to work in any state. For more information, visit the website.