Student Success – MCC Accounting Major Trieu Tran Gains Real-World Experience through Internship at Connecticut DECD
MANCHESTER, Conn.  (December 15, 2021) – Trieu Tran, of Newington, recently completed a successful internship at the Connecticut Department of Economic and Community Development (DECD), giving her real-world experience to help advance her educational goals.
Tran, an accounting major, enrolled in MCC having earned a certificate in financial accounting from Ho Chi Minh College of Economics in her native Vietnam, in order to hone her financial skills for the U.S. job market.
Her duties as a DECD intern involved uploading payment documents, generating payoff letters on loans and sending to clients. She gained on-the-job experience in electronic data storage, inter-office communication with regards to project handoffs and problem solving. In addition, she learned valuable lessons about such basics as email etiquette and raising issues with supervisors and co-workers to ensure projects stay on track.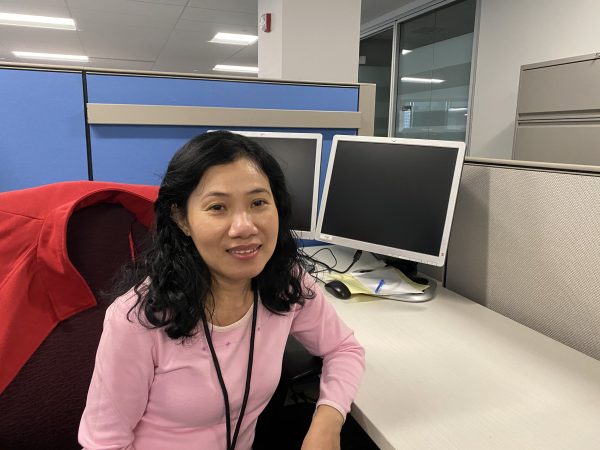 She has this advice to share: "As an intern, you should regard yourself as an employee," she said. "Confirm with your manager or supervisor when you're unsure about things before doing them and remember that working carefully builds trust among your colleagues and supervisors."
MCC internships also have an in-class component. About this part of the experience, Tran advised, "Make a plan of study and read the textbook and the professor's instructions so that you understand the connection between theory and your real-world experience."
Tran said MCC's academic program gave her a set of skills that enabled her to take the internship to another level. "Accounting courses have given me the basics," Tran said. "MCC coursework also gave me leadership and listening skills, as well as accounting management skills, that I believe opened the opportunity for the internship."
In addition, her the opportunity to join and participate in activities sponsored by MCC's chapters of Phi Theta Kappa and Alpha Beta Gamma honor societies gave her an advantage, according to Tran, and she credits Associate Professor Deb Boyle and Director of Cooperative Education Bob Henderson with doing interview and job preparation work that helped her succeed in a fast-paced workplace.
Tran, who is completing her studies this year, plans to continue to hone her skills in the workplace and then continue toward a bachelor's degree down the road.
About the MCC Accounting Program
The Accounting associate degree program prepares students for employment as junior accountants, bookkeepers, and accounts receivable/payable and payroll associates. Graduates will be able to maintain complete sets of accounting records and prepare financial statements and individual tax returns. Students have the opportunity to participate in internships as well as the Volunteer Income Tax Assistance (VITA) program, in which they gain practical experience in the preparation of tax returns. Students interested in transferring to earn a bachelor's degree may enroll in the Accounting and Business Administration Transfer, associate in science degree program.