Student Success – Maftuna Rakhimova Finds Direction Through Precision Manufacturing Program
MANCHESTER, Conn. (July 5, 2017) – Maftuna Rakhimova, of Glastonbury, enrolled in Manchester Community College in 2015 in the Liberal Arts and Science program, without a clear notion of what she wanted to do. Thanks to MCC's precision manufacturing program, Rakhimova is now employed at Newington-based Aero Engine Components Repair (AECR), a division of EDAC Technologies, as a coordinate measuring machine (CMM) programmer.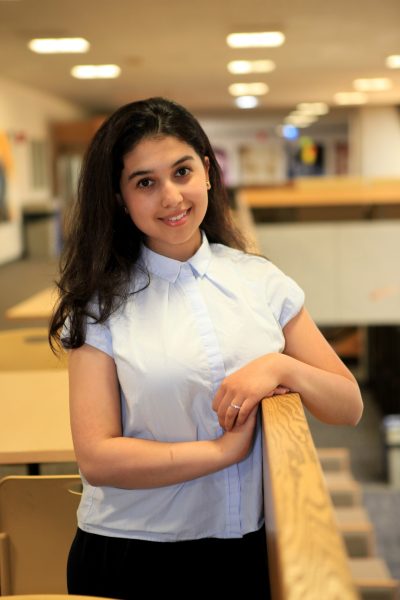 It is a job that is helping her refine her career goals to work involving computer programming and project management.
She earned her certificate this past spring, but she was recruited by EDAC and started work even before she finished. EDAC is part of the Connecticut aerospace supply chain for major advanced manufacturers, including Pratt & Whitney, Sikorsky and Hamilton Sundstrand.
"They make parts for turbines and compressors," Rakhimova said. "There are a lot of opportunities in the manufacturing sector for students because companies like EDAC are all looking to replace people who are retiring. They need young talent."
She was pleased to learn about the precision manufacturing program because its short duration enabled her to start earning quickly in a field that interests her. "I've always had an interest in airplanes, so I really like working at EDAC, and I found that I also like programming the equipment," she said.
Rakhimova credited not just her friend and fellow student Than Soe Aye, who also completed the certificate program and is now working at Pratt & Whitney, with telling her about the program but also several professors for her success at MCC.
Studying in the manufacturing program during morning classes, she continued to pursue her associate degree with an evening class schedule. It was a challenging undertaking.
She noted that MCC professors are very supportive. In addition to the manufacturing faculty, she pointed to Math Professor Myrta Groeneveld and Sociology Professor Lucy Hurston '93 as being especially helpful. "You can always talk to them," she said. "They never said, 'You can't do that.' Even when I struggled, they gave me a lot of extra support and help."
The diversity of MCC's student body also helped Rakhimova to thrive. "There are a lot of students from different cultures with different mindsets," she said. "There are a lot of international students. It's a great experience."
A native of Uzbekistan herself, Rakhimova's long-term plans involve returning to her home country to start her own business. "I want to do something with computers on an international scope," she said.
In the shorter term, her next move is to Central Connecticut State University to complete a bachelor's degree. She has already transferred and is dual enrolled as she finishes her associate degree at MCC. She anticipates completing the associate degree this summer and continuing with the bachelor's degree curriculum this fall.
About MCC's Precision Manufacturing Certificate – The Precision Manufacturing certificate program equips students with the necessary hands-on experience and foundational knowledge to qualify for entry-level positions as machine operators and quality control inspectors. In this program, students are taught both conventional machining techniques and computer numerical control (CNC) machining techniques. Students who complete the program earn both a non-credit and a credit certificate and earn up to 30 credits that can be applied toward an associate degree in technology studies-industrial technology option. Visit www.manchestercc.edu/manufacturing/.