The Scribes Institute Awards Dr. Aaron Lewis Scholarship to Great Path Academy Student Jadea Harris
Manchester, Conn. (January 12, 2017) – Jadea Harris, of Hartford, is a recipient of this year's Dr. Aaron Lewis Scholarship, awarded by The Scribes Institute. Harris is a senior at Great Path Academy (GPA), a middle college high school on the campus of Manchester Community College.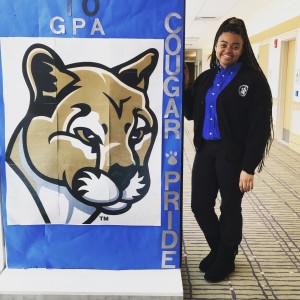 The Dr. Aaron Lewis Scholarship was created by Lewis, the founder and director of The Scribes Institute, to recognize select high school students, improve literacy and reduce the achievement gap, particularly among African American and Latino children. The Scribe's Institute is a non-profit organization fully dedicated to reducing the achievement gap in minority children and disenfranchised peoples through a forthright approach to strengthening literacy skills. The goal is to help create an equitable school environment for students in the Hartford Public School system, of which GPA is a part.
"Great Path is extremely proud to have our student, Jadea, as the recipient of the Dr. Aaron Lewis Scholarship," said Tory Niles-Outler, principal of GPA. "This is the second consecutive year a Great Path student has won this prestigious award. It is an absolute honor."
Last year, Owusu Darko, now a freshman at UConn, won the scholarship.
Harris, who is applying to Howard University and Northeastern University for Fall 2017 admission, grew up in the north end of Hartford with what she calls "a thirst for education." She was admitted into the Hartford Youth Scholars Foundation, which helps support student success from sixth grade through college. At GPA she takes honors courses and the college-level courses that the school's relationship with MCC qualifies her to take.
"I plan to major in clinical psychology," she said. "I want to discover more about myself, and my focus is to perfect and strengthen the best of my abilities."
About Great Path Academy – Established in 2002, GPA has been recognized by Magnet Schools of America with a 2015 National Merit Award. Embedded in the Manchester Community College campus, the middle college high school encourages students to become immersed in the higher education environment and coursework. Students have the unique opportunity to attend college courses at MCC and earn up to 30 tuition-free college credits that may be transferrable to their future college or university.   As an inter-district magnet school with students coming from 33 area towns, GPA's innovative school model promotes diversity, college readiness, shared understanding, shared responsibility and shared leadership.