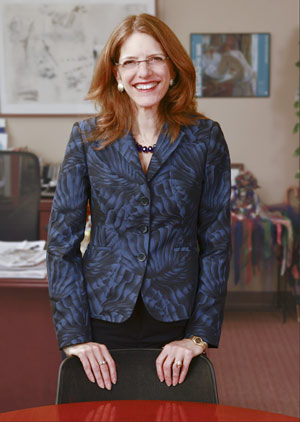 Prior to her appointment at Elgin, Dr. Glickman was Associate Provost and Assistant Provost at the University of Baltimore, an urban, upper division, graduate, and professional university, one of 13 institutions in the University of Maryland system. During her career in higher education, she has served as Dean of the College at the Maryland College of Art and Design, Executive Director for Curriculum Development and Evaluation at Harford Community College, Assistant to the Vice President for Academic Affairs at Baltimore City College, Assistant Dean at the University of Baltimore School of Law, and as a tenured faculty member at the Essex Community College (now a campus of the Community Colleges of Baltimore County).
Her contributions to higher education include service to the College Board's Community College Advisory Panel, the American Council on Education's Commission on Advancement of Racial and Ethnic Equity, the American Association of Community Colleges Commission on Research, Technology and Emerging Trends, the Association of American Colleges and Universities, and the Council for Resource Development-Executive Institute for Fundraising in Community Colleges.
Her community service includes President of the Greater Hartford Arts Council Board of Directors; Corporator of Eastern Connecticut Health Network, Corporator for Hartford Healthcare, Manchester Chamber of Commerce, the Little Theater of Manchester, the Elgin Chamber of Commerce Business Development Committee, Baltimore County Education Advisory Board, MAITI (a statewide IT consortium), and, in addition, she has done many presentations, including at the Greater Hartford's Women's Conference, Elgin Leadership Academy and Rotary organizations, judged for the Daily Herald Student Leadership Awards, and judged for the YWCA Leader's Award for Racial Justice.
She is a book reviewer for the History of Education Quarterly, a refereed journal, has taught and developed graduate courses for the University of Maryland College Park and served as a curriculum consultant for Northern Illinois University's extension adult education doctoral program. She served as a founding member of the North-West Suburban Chief Academic Officers (CAO) in Illinois, on the Technology Taskforce and the Legislative Taskforce for the statewide CAO group, co-chaired the Maryland Two and Four-Year Chief Academic Officers, Executive Board of the Maryland Network, Office of Women in Higher Education, Fiscal Manager for Maryland Online, the Executive Committee of the Maryland Association of Higher Education, and chaired several regional accreditation visits.
In April 2012, Hartford Business Journal named Dr. Glickman one of eight remarkable women in business. She has also received the Distinguished Alumna Award from the Johns Hopkins University Alumni Association, the Faculty Mentor Award from University of Maryland College Park, Outstanding Administrator, Maryland Association of Higher Education, and a service award from the Black Law Student's Association at the University of Baltimore.
Dr. Glickman holds a BFA from the Maryland Institute College of Art, a master's degree from Johns Hopkins University School of Education; and a Ph.D. from the University of Maryland, College Park.