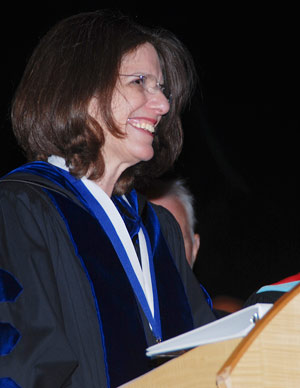 The inaugural celebration began at 8:30 a.m. in the Culinary Arts Center, Lowe Building, with an academic symposium entitled "Looking Back, Looking Forward." The academic symposium brought current and past faculty members together to discuss the future and history of MCC.
The inaugural ceremony began at 1:30 p.m. in the SBM Charitable Foundation Auditorium located in the Arts, Sciences and Technology Center, and featured Dr. Freeman Hrabowski, III, president of The University of Maryland, Baltimore County. A reception immediately followed the ceremony.
For more information on the inaugural celebration, please email geninfopresident@manchestercc.edu.
---
Inaugural Address
The Inauguration of President Gena D. Glickman
May 1, 2009
Manchester Community College
Dr. Glickman's Inaugural Speech
Welcome. I am honored today by your support and enthusiasm for our institution's – and our students' – future. Together we will continue to shape the future of thousands of lives and the future of our State.
To the Board of Trustees and our Chancellor, Marc Herzog – thank you for the faith you've shown in me by giving me the opportunity to serve MCC as the fifth president of the College. To Bill McGurk, for officiating today, I appreciate all you have done to welcome me to the community. I'm honored that you agreed to officiate today. To all our distinguished platform guests – thank you for the legacy that you've put in my hands. To my predecessor, Dr. Jonathan Daube, thank you for your vision and leadership of MCC – I've inherited a gem.
Many thanks go to our generous foundation members, and our individual and corporate sponsors, for underwriting today's events and for their always generous support of our students – you'll find their names in your program; I appreciate your confidence in me and in the College. You've truly shown just how intertwined the College is with our community.
To Angelo Messore for coordinating the symposium and to the faculty, staff and retirees for the program this morning, to our musicians, our photographers, our students and faculty in the culinary program, and to all the people involved in today's event – thank you for volunteering your time and energy in making this celebration festive.
To the inaugural committee chaired by Deans Carter and Savage, and Cynthia Washburne with support by Marilyn Haney – you have worked hard to ensure that we were good stewards of our donors' resources and that we would have an event worthy of the College and our community. My sincere thanks.
I also want to thank the distinguished guests in the audience that Bill McGurk recognized earlier – my presidential colleagues, academic and community leaders, alumni, our Organization of Active Adults, our Regional Advisory Council, Foundation Board members, our System Office, and businesses and organizations. And, to our faculty, staff, managers, and students – thank you for accepting me into your world and for your support, counsel and confidence.
A special thanks to our retirees who have welcomed me so warmly, many of whom are reengaging with the college through our newly-formed Retirees Council.
The MCC we know today is a result of the talents and commitment of our entire community to our students' success.
To my family and friends: who are here today representing my high school and college days, and my past work life – from Baltimore City Community College, Elgin Community College, the University System of Maryland, and more – thank you for joining me in this formal ceremony that marks the beginning of my service to Manchester Community College. And to those who are not here, I know you're here in spirit.
Our collective friendship equates to over 200 years of support, sharing, love, and laughter. That's a lot of years and stories – it all means more to me than you can imagine.
To my husband, Joachim, who, for the past 16 years, has supported me, challenged me, and been there every step of the way – and he keeps the faculty perspective close at hand, he has my heart. My father, Marvin, who shares my commitment to education – Dad, I am glad I inherited your curiosity for learning. Joan, thank you for your support of our family; and Susan, my sister-inlaw, thank you for staying close. And, in memory of my sister, Donna; and my mother, who always had faith in me, may they rest in peace.
You are the people who empower me, mentor me, give me my moral compass, and taught me how to be a leader.
And, to our keynote speaker, President Freeman Hrabowski, a true and natural leader, who by his very commitment to students and academic excellence is an inspiration. You honor our College and me by speaking today. Thank you for being here.
Today is a remarkable day. It's a day to celebrate the future of the college. It's also a day of celebration around the world. Today is May Day and International Worker's Day.
People around the world are celebrating the upcoming summer and the renewal of nature. Today is a national holiday in many countries – a holiday that is a celebration of social justice and the economic achievements of the labor movement.
It's an appropriate day for an inauguration. In many ways, the May 1st celebrations with themes of renewal and social justice, parallel those of an inauguration that symbolizes a new era for a college. These themes also parallel the mission of community colleges, which were established in 1949 under the Truman Commission, as public institutions that would be free of charge for "all youth who can profit from such an education." We continue to strive to maintain our mission of access and affordability and create in our students, as Harold Taylor, a past president at Sarah Lawrence College once said: "a person who learns to fulfill their powers and to find ways of using them in the service of mankind.
As a girl, I planned a career in the arts –maybe in art therapy or museums, so off I went from
NYC to Baltimore to earn my bachelors degree in sculpture and fine arts. I never imagined standing here before you as a college president. In the 33 years I've served as a faculty member and administrator on college campuses – I have learned that each college has its own personality and culture.
As soon as I stepped onto this college campus for the very first time, I felt at home. I share with the college community a passion for learning and a belief in providing an academically rigorous and caring environment, where students thrive and stretch and realize their dreams.
I believe MCC is, at its core, a place to explore ideas, a place that values innovation, a place that builds bridges, a place where dreams are realized, and a place where we build our future. From our beginning over 45 years ago, MCC has always maintained its reputation for excellence. This past year we focused on our commitment to provide more accessible and comprehensive support services for our students building a GPS system of sorts to guide our student toward their success. We created an Academic Support Center and a Writing Center. We've begun the process of examining all of our student processes from entry to graduation. We increased the number of student clubs on campus and are seeking ways to engage students even further in college life and service learning.
We've instituted several new degree programs, including Pathways to Teaching, Music, and Environmental Science that were in the works before my arrival, and we're in the process of creating certificates in Sustainable Energy, and exploring new health care programs. We are creating Centers and Institutes for Manufacturing, Entrepreneurship, Municipalities, and Leadership and Community Engagement.
We're building on strong relationships with our towns and creating a presence in our downtowns. With credit to the creativity of the faculty and staff, we've engaged students in vibrant sustainability projects, and created mentoring programs to assist students in acclimating to college life and to help close the achievement gap.
We're in the final stages of our new building for Great Path Academy, our middle college high school, where we plan to welcome 300 high school students in the fall – double our current
numbers.
And, we have almost 200 students who were inducted into our honors societies this year. So, what about our future? Where does an excellent institution go from here? I know that you want to hear about my vision for the future of MCC. But it isn't my vision alone that will guide the College – it is a collective vision. Everyone has a role to play and our diversity is our strength. We're in this together.
Our academic programs and our faculty are at our core, yet that doesn't lessen the importance of our non-credit programs, our business and industry training, our co-curriculum or support services, or the impact that each one of us has on the College and our community every day. As a college, with help from community representatives, we have spent the last several months creating a strategic plan that will provide us a clear direction over the next several years – a direction closely tied to our resources, the needs of our students and communities.
Our goals are both simple and complex – to create opportunities for students to succeed professionally and to reach their personal goals; and to provide a learning-centered student success model that builds the capacity for students to become self-directed, intentional and continuous learners, both in the classroom and outside its walls.
We know that MCC will continue to be recognized as a model of sustainability and good stewardship. We will continue to serve as the educational, cultural, and civic center for the community, and be an integral partner in building a better future for the State of Connecticut. We will strive for distinction in seven key areas: Academic Excellence, Integrative Learning and Holistic Student Development, Workforce Development, Community and Civic Engagement, Education Partnerships, Stewardship, and College Culture.
The strategies to reach these goals require creativity and talent – these traits are a hallmark of the MCC community.
I'd like to take a little time to describe the path we are creating for our future:
Academic Excellence
We are committed to demonstrating academic rigor and a culture of intellectual inquiry in our programs and courses, and to enhancing the quality of learning, teaching and student support.
We will continue to support open access and rigorous standards, along with comprehensive support services for students to be successful. Students will be well prepared to transfer to four year colleges and universities, to go directly to work, to become better citizens.
Integrative Learning and Holistic Student Development
The College community, especially our students, will have a shared understanding of collegewide learning goals that define an MCC graduate – and how those goals tie together general education, program coursework and co-curricular opportunities into a cohesive whole. Students will see a connection between their educational plan, learning, student life, and employment opportunities.
During a recent One-Day College event at MCC, an event in which we celebrated the arts, two high school students enacted a scene from Arcadia, one of Tom Stoppard's plays. The students spoke afterwards about the connections they made between acting and their studies in science, mathematics and the humanities, in order to make the play real for themselves and for the audience. As I listened to them, it brought home to me just how important the arts are to learning in all realms, and more broadly, how important integrative learning is for our students.
Workforce Development
According to a study sponsored by the Federal Department of Education, "When students in a hospitality program study the writings of Margaret Mead and other anthropologists, or when biotech students read Sinclair Lewis' Arrowsmith, they add an important dimension to their education."
The College will continue to develop academic and training programs that are responsive to the immediate and long-term workforce needs of the region – programs that value both the liberal arts and career pathways. While we recognize that all academic programs contribute to the development of the state's economic base, we know that those credit and non-credit training and retraining programs that provide direct entrance into the workforce are a critical part of our mission. Not only will we be state-of-the-art in our programs and courses, we will be accessible through a variety of delivery options to better serve our students, especially our non-traditional students.
Community and Civic Engagement
The College will engage in partnerships and collaborations with our towns to enrich the educational, civic and cultural lives of our residents. We will be active partners with businesses and community organizations to better understand and serve the needs of our constituents. We already have over 200 faculty and staff serving in various roles in our communities.
Educational Partnerships
The College will strengthen relationships with other units of higher education to facilitate articulation of programs and to address common concerns and issues in higher education. We will continue our synergistic relationship with Great Path Academy; one that models best practices in curriculum alignment, college readiness, and support for students. We will partner with other schools in our service area so that together we tackle college readiness for all high school students. We want all young people to value continuing their education – and we want them to be prepared to do just that.
Stewardship
We will continue to protect and manage our assets and we will seek to develop new sources of funding to invest in our future. The College's reputation, our human resources, professional development, physical spaces and capital assets, technology infrastructure, and accreditation are all critical components to our mission of student success. The College will continue to explore, adopt and embrace principles of sustainability. This is all work that our students deserve and our programs require.
College Culture
The college community will build on our capacity for shared leadership, shared understanding, and shared responsibility. This philosophy is instrumental in building a culture of assessment, collegiality, and evidence-based decisions. Students will have a voice in the direction of the College. We will practice inclusive and transparent conversations across as broad an audience as possible; we will be mindful to build a culture of trust – encouraging innovation, taking risks and making and learning from mistakes. James Joyce reminds us that "errors are…portals of discovery." We will strive to realize the full potential of our diversity.
We will continue to invest in our future – we must.
Even in tough financial times when we need to prioritize our resources to do more with less…
We will continue to provide integrative and rigorous learning experiences that prepare our students for this ever-changing world in which we live.
We will design opportunities to assist each of our students in creating their life vision.
We will encourage our students to garner the determination and tenacity they may need to realize their educational goals.
We will analyze our learning outcomes and effectiveness measures across the college to see if, indeed, we are meeting our goals.
We will partner with our communities and our sister educational institutions.
We will support the professional development of our faculty and staff so that we stay current within our disciplines and programs to provide the best education for our communities.
We will be good stewards of our resources and assets and promote sustainability.
We will build on our capacity for shared leadership, understanding and responsibility.
In doing these things, we honor our mission to advance academic, economic, civic, personal and cultural growth by providing comprehensive, innovative and affordable learning opportunities to diverse populations; and we honor our values – those of access and affordability, collaboration, excellence, collegiality, inclusiveness, diversity, transparency, innovation, trust and respect.
Together, we will invest in the educational advancement of our community, our students, and our State's future.
Thank you for believing in our College and for being here today.