MCC Women's Caucus Presents Professor Sandra Rimetz with Glickman Award for Outstanding Woman of the Year
MANCHESTER, Conn. (June 7, 2019) – Professor Sandra Rimetz, of Manchester, was recognized by the Manchester Community College Women's Caucus with the 2019 Glickman Award for Outstanding Woman of the Year.
The award – named for Dr. Gena Glickman, MCC president emerita, who served as the college's first woman president from 2008 to 2018 — is given annually to a female faculty or staff member who has made an important contribution to the achievements of women at the college, exemplifies leadership qualities and acts as a role model and mentor through her activities on campus.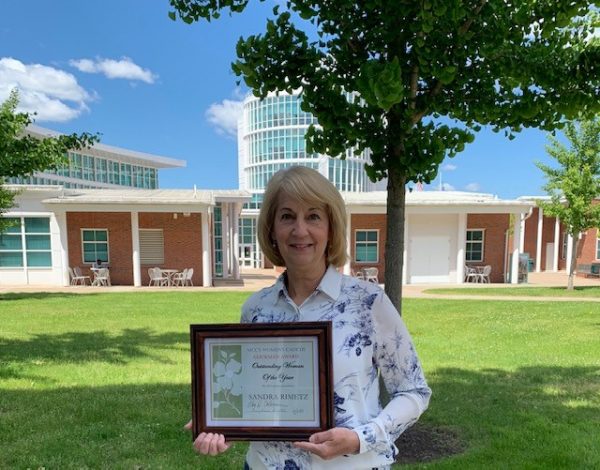 Rimetz was recognized for encouraging women to explore technology-related fields, where significant gender gaps remain. In her 20-year career as an innovative technologist, she has served as professional role model to students and staff alike. In addition, she was cited for her work to develop and implement the recently approved Social Media Specialist certificate at MCC. She was also a driving force behind the purchase of virtual reality (VR) equipment and apps, which provide an enhancement to student learning and engagement. Working closely with the staff of the Raymond F. Damato Library, she has brought this emerging technology to students via the college's Technology Suite of classrooms.
"It is an honor to be acknowledged for my accomplishments in the MCC community, especially in the area of technology," Rimetz said. "I am grateful to have the support of my colleagues to bring this kind of innovation into the hands of our students."
Beyond the classroom, she helped lead innovative changes to the campus that included the MCC Leadership Institute and integrating mobile-bidding technology to MCC Foundation's annual Evening of Fine Food and Friends signature fundraising event.
 About the MCC Women's Caucus
Since the 1970s, the MCC Women's Caucus has recognized the value of a social experience and helping female faculty and staff develop a network in which they could work toward common goals. A mark of the effectiveness of the caucus can be seen in the permanent committees that have become part of the mainstream of the college.
The highlight of the Woman's Caucus events is the annual spring luncheon at which the Outstanding Woman of the Year Award is conferred on a woman who has supported and promoted the professional development of women on campus. The annual luncheon also recognizes the collegiality of women on campus and the contributions made by many.