MCC Women's Caucus Presents Cynthia Zeldner with Glickman Award for Outstanding Woman of the Year
MANCHESTER, Conn. (August 28, 2018) – Cynthia Zeldner, associate director of admissions (retired), of South Glastonbury, was recognized by the Manchester Community College Women's Caucus with the 2018 Glickman Award for Outstanding Woman of the Year.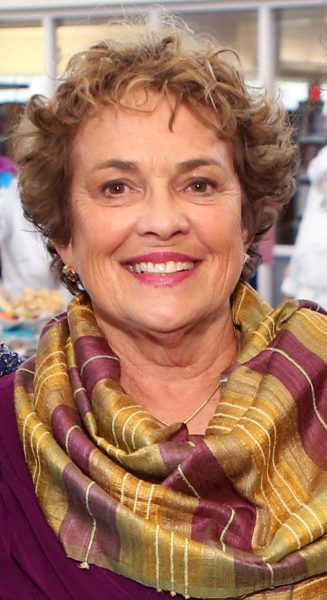 The award is given annually to a female faculty or staff member who has made an important contribution to the achievements of women at the college, exemplifies leadership qualities and acts as a role model and mentor through her activities on campus. Each year the Women's Caucus alternates the Outstanding Woman of the Year Award between staff and faculty, honoring a staff member in the even years and a faculty member in the odd years. This year, the award was formally named for Gena Glickman, now retired, who served as MCC's first woman president from 2008-2018.
"The recognition from all of my coworkers means a lot to me," said Zeldner, who retired in August. "I did my job the best that I could out of my love for this college — not the recognition — but it does feel good that all the work that I did was recognized by all of those around me."
Zeldner also has served as a volunteer at the Cougar Pantry, as well as for Evening of Fine Wines, MCC Foundation's signature fundraiser for the college.
She began her career at MCC 24 years ago after working in the Hartford area with high school students. She saw an issue that she wanted to help solve: many highly capable students didn't think that they had a chance to be successful in higher education. She joined MCC to make an impact on those students, whom she believed deserved a brighter and broader future, and she began spreading the word about what MCC is about and has to offer.
"It has been an honor to help spread the message of opportunity that community colleges represent," she said. "I am pleased to have been a part of MCC's mission all these years."
About the MCC Women's Caucus
Since the 1970s, the MCC Women's Caucus has recognized the value of a social experience and helping female faculty and staff develop a network in which they could work toward common goals. A mark of the effectiveness of the caucus can be seen in the permanent committees that have become part of the mainstream of the college.
Each year the caucus brings members together to lunch and learn from a colleague. The highlight of the Woman's Caucus events is the annual spring luncheon at which the Outstanding Woman of the Year Award is conferred on a woman who has supported and promoted the professional development of women on campus. The annual luncheon also recognizes the collegiality of women on campus and the contributions made by many.