MCC Supports First-Generation Student in Continuing toward Goals
MANCHESTER, Conn.  (January 16, 2020) – This spring Angel Velez, of Hartford, is continuing at Manchester Community College toward his goal of an associate degree, thanks to the personal support of faculty and staff, their belief in his ability to succeed and a Connecticut state grant-supported program designed to enable students to persist.
Velez is benefitting from one of MCC's retention programs, in this case PASS (Promoting Academically Successful Students), which has enabled three cohorts to date to persist into their next semester to improve their GPAs and achieve on average 67 percent of their college credits during a semester when they might otherwise have stopped out.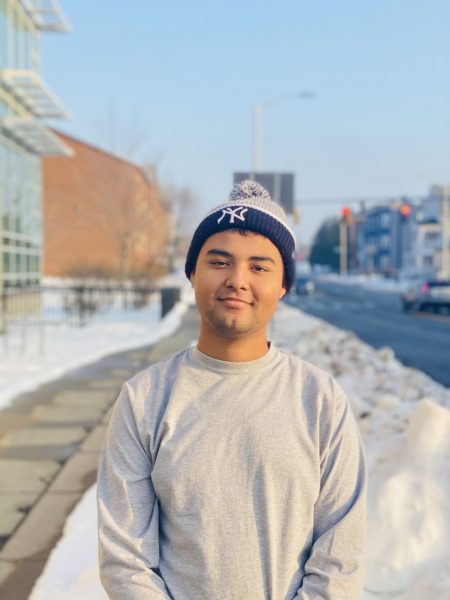 "These students, who typically have a strong foundation for college and the promise of success, often stop out because of challenges that compete with their education," said Angelo Simoni, interim dean of student affairs. "Programs like PASS provide added support to help them get past these challenges, when they may otherwise have had to put their educational goals on hold."
Velez, a first-generation college student, is an example of a student who was well positioned to attend college. A recipient of a Hartford Foundation for Public Giving Scholarship, managed by MCC Foundation, his goal is to earn a degree in Early Childhood Education. He had his sights set on a higher education degree early because of his experience in programs at Hartford's Wilson Gray YMCA. As a product of many of the Y's youth programs growing up, especially the Y-Achievers, which exposes participants age 10 through 18 to present and future educational and career opportunities, Velez found inspiration.
The Y-Achievers program is designed to help students reach their full potential by teaching positive social values and igniting their thirst for knowledge, according to Alex Thomas, director of youth development at the Wilson Gray YMCA Youth and Family Center. Adults from the community are invited to come and participate as role models.
"Historically all graduating seniors from our Y-Achievers Program have attended college," Thomas said.
For Velez, 2020 and the pandemic brought unanticipated challenges. That's where the additional attention and coaching of the PASS program is making a difference. As a member of the fourth PASS cohort, he is one of 30 students who this spring will enroll in workshops in study skills and time management, along with on-campus tutoring, mentoring and targeted intervention programs.
After he graduates from MCC, he would like to potentially join the Youth and Family Center, this time as a staff member.
"I am pleased about the fact that MCC is giving me a bunch of support that keeps me from giving up on my goals," Velez said. "I am looking forward to continuing my education at MCC and the chance to earn my degree."
About PASS (Promoting Academically Successful Students)
MCC's PASS program, supported by the Office of Higher Education, is designed specifically to fund strategic initiatives to address the needs of qualifying students on academic probation who may need additional support to improve their standings. The concept includes "high-touch" programs that combine student support with student accountability, providing a "foundation for at-risk students to realize their academic goals."