MCC Student Receives Leaders of Promise Scholarship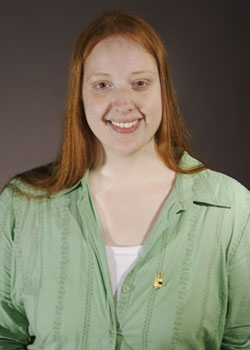 Manchester, CT – (October 2, 2006) . . . J. Ashley Odell, of Manchester, has been named a recipient of the 2006 Phi Theta Kappa Leaders of Promise Scholarship. Odell, along with twenty-nine other community college students from across the nation, will receive scholarships of $1,000 to further their associate degree studies.
The purpose of the Leaders of Promise Scholarship Program is to provide new Phi Theta Kappa members with financial resources to help defray educational expenses while enrolled at a two-year college. The program also provides opportunities and encourages students to assume leadership roles by participating in Society programs. Thirty members from 18 different states were selected for their demonstrated leadership potential and scholastic achievement.
Odell is a Liberal Arts major, and has been a member of Phi Theta Kappa since fall 2005. She is very active in Phi Theta Kappa, serving as a regional officer for New England and as vice president of records for the local chapter. Odell is also involved in the college, serving as president of the French Club, vice president of the Association of Community Inclusion, and a member of the college senate and political union. Outside of the college, Odell volunteers with numerous civic organizations, serving as a member of the Town of Manchester Planning committee and a member of the American Cancer Society Rely for Life committee.
"I was very surprised that I received this award," stated Odell. "To be a recipient is a really big honor; they are selecting the next generation of leaders and it's nice to be recognized."
"This is a noteworthy honor because it recognizes the potential success of outstanding students such as Ashley," explains Rod A. Risley, Phi Theta Kappa Executive Director. "The 2006 Leaders of Promise have demonstrated academic excellence and are committed to improving their communities. Ashley exemplifies the outstanding students enrolled not only at Manchester Community College, but at community colleges everywhere."
Phi Theta Kappa International Honor Society, headquartered in Jackson, Mississippi is the largest honor society in American higher education with 1,200 chapters on two-year and community college campuses in all 50 of the United States, Canada, Germany, the Republic of Palau, the British Virgin Islands and U.S. territorial possessions. More than two million students have been inducted since its founding in 1918, with approximately 100,000 students inducted annually.
Students of any age who possess the desire to pursue higher education are welcome at Manchester Community College. MCC is proud of its academic excellence, new facilities, flexible schedules, small classes, low tuition and faculty with both academic and "real world" credentials. The College offers over 60 programs, transfer options, financial aid and scholarships, as well as access to baccalaureate degrees through guaranteed admissions programs with several universities. MCC is situated on a park-like campus and is easily accessible from I-84.