MCC Student Elected to Board of Trustees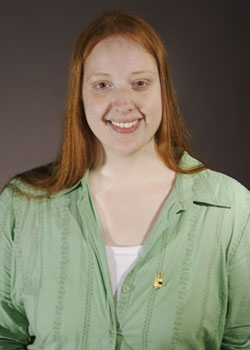 Manchester, CT – (October 24, 2006) . . . J. Ashley Odell, of Manchester, has been elected by her peers to serve as a student member of Connecticut's Board of Trustees of Community-Technical Colleges.
The Board of Trustees is the governing body for Connecticut's system of twelve community colleges. The eighteen-member Board, two of whom are elected by the students of the twelve colleges, establishes policies that guide the administrative, academic, and financial affairs of the community colleges throughout Connecticut.
"Ashley Odell is a thoughtful student, smart and always well prepared," stated Jonathan M. Daube, president of Manchester Community College. "She will be an excellent representative of student interests."
Odell, a Liberal Arts major, is very involved in the college, serving as president of the French Club, vice president of the Association of Community Inclusion, and member of the College Senate and Political Union. She is also a member of Phi Theta Kappa, the international honor society for students attending two-year colleges, and was the recipient of the 2006 Phi Theta Kappa Leaders of Promise Scholarship. Additionally, she was recently awarded a $1,000 scholarship from the Coca-Cola Scholars Foundation.
Outside of the college, Odell volunteers with numerous civic organizations, serving as a member of the Town of Manchester Planning Committee and a member of the American Cancer Society Relay for Life Committee.
Students of any age who possess the desire to pursue higher education are welcome at Manchester Community College. MCC is proud of its academic excellence, new facilities, flexible schedules, small classes, low tuition and faculty with both academic and "real world" credentials. The College offers over 60 programs, transfer options, financial aid and scholarships, as well as access to baccalaureate degrees through guaranteed admissions programs with several universities. MCC is situated on a park-like campus and is easily accessible from I-84.