MCC Professor Winner of National Photo Contest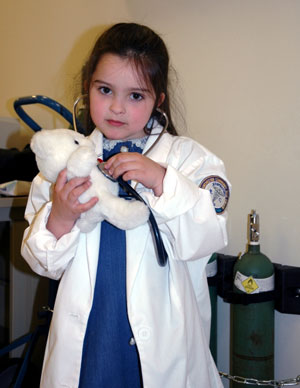 Pictured is Mikaela M. Hathaway-Keene.
She already has a good head start on a
promising respiratory therapy career.
Manchester, CT – January 24, 2006. .. The American Association for Respiratory Care (AARC) selected Manchester Community College professor Kerry McNiven of Simsbury as the winner of their 2005 national photo contest. Her winning photo will appear on the January cover of the AARC Times.
AARC members submitted photos and cast their votes online for the best photo depicting respiratory therapists. McNiven's winning photo is of four year old, Mikaela M. Hathaway-Keene, daughter of AARC member Shelly Hathaway of East Lyme, CT.
McNiven is the Professor and Director of clinical education for the Respiratory Therapy Program. She has been employed with MCC for 19 years.
The American Association for Respiratory Care (AARC), formerly the American Association for Respiratory Therapy, is dedicated to serving the needs of health professionals working in the field of respiratory care. AARC accredits, records, and reports continuing education programs; provides information about advances in the field; and provides a forum for discussion. The Association arranges educational programs, meetings, and seminars; and sponsors video-teleconferences and community affairs programs. AARC monitors legislative developments in the field and publishes two monthly periodicals; it is sponsored by several professional associations in the medical field.
Students of any age who possess the desire to pursue higher education are welcome at Manchester Community College. MCC is proud of its academic excellence, new facilities, flexible schedules, small classes, low tuition and faculty with both academic and "real world" credentials. The College offers over 60 programs, transfer options, financial aid and scholarships, as well as access to baccalaureate degrees through guaranteed admissions programs with several universities. MCC is situated on a park-like campus and is easily accessible from I-84.