Current Exhibition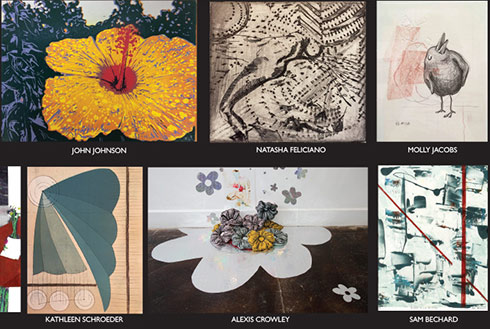 The Dehn Gallery presents the 6th Annual Connecticut Printmakers Invitational (CPI) from November 7-December 27, 2017, featuring the work of 13 emerging Connecticut printmakers. CPI is curated by Krista Narciso.
Participating Artists
Sam Bechard
Alexis Crowley
Natasha Feliciano
Kerri Guadelli
Allan Greenier
Molly Jacobs
John Johnson
Richard Kochanek
Kait Lennon
Nathan Lewis
Amy Ozga
Mary Susan Sabol
Kathleen Schroeder
An opening reception will be held November 10 from 6 p.m.-8 p.m. The invitational is free and open to the public.
Address and Hours
903 Main Street, Manchester, CT 06040
Monday-Friday: 10 a.m.-4 p.m.
Closed Saturday and Sunday
---
Previous Exhibitions
MCC Alumni Show 2017
August 29, 2017-November 4, 2017
FLIGHT
May 16, 2017-August 26, 2017
Corazones Abiertos (Open Hearts)
March 7, 2017-May 13, 2017
Any World That I'm Welcome To
January 17, 2017-March 4, 2017
Redux: Everything Old is New Again
October 25, 2016-January 6, 2017
In The Loop
October 23, 2016-January 6, 2017
Drawn Together
August 30-October 22, 2016
Woven Narratives
May 20–August 27, 2016
2D3D: Contemporary Artists Working in Relief
March 15–May 14, 2016

Design and Digital Art Faculty Exhibition
January 19-March 12, 2016
Coming Home:
MCC Alumni Exhibition
October 27, 2015-January 9, 2015
Carnography:
Escape, Desire, and Automobiles; Photography by Jim Bremer
August 10–November 6, 2015
Violent Nature:
Artists Respond to Violence in Contemporary Society
August 18–October 23, 2015
Every Picture Tells a Story
Manchester Art Association Members Juried Show
July 15–August 14, 2015
Year in Review: High School Student Exhibition
Manchester High School and Great Path Academy
May 22 to July 10, 2015
Food for Thought:
An Exhibition About Food and Beverages
March 31 to May 16, 2015
Women Artists Collective
"Love in the Unexpected"
February 19 to March 28, 2015
Big Impression
Large Format Printmaking by Connecticut Artists
January 15 to February 15, 2015
Know Your Connecticut Farmer
A Photographic Journey featuring Connecticut Farms and Farmers by Jack McConnell
December 5, 2014 to January 10, 2015
Thanksgiving in Manchester: A History of the Manchester Road Race
Stories and Artifacts from the Silk City's Thanksgiving Day Tradition
November 5 to November 29, 2014
Planet Pulp
September 19, 2014 to November 1, 2014
Seeing Things
July 31, 2014 to September 13, 2014
Manchester Art Association Group Members Show
June 20, 2014 to July 24, 2014
Things with Wings
May 2, 2014 to June 12, 2014
MCC Design & Multimedia Faculty
March 21, 2014 to April 24, 2014
Hans Weiss: Portraits Through Time
February 7, 2014 to March 13, 2014
MCC Alumni Art Show
December 20, 2013 to January 30, 2014
Bei-Dai: The Art of Mother Love
November 1, 2013 to December 12, 2013
Art Forms
September 20, 2013 to October 24, 2013
Manchester Art Association Members Exhibition
June 27, 2013 to August 3, 2013
Printmakers Network of Southern New England
April 18, 2013 to June 22, 2013
Scalene Evidence
February 14, 2013 to April 8, 2013
Inscapes — Virgina Dehn
December 13, 2012 to February 7, 2013
P/NE Paper New England: A Fifth Anniversary Look
November 1, 2012 to December 1, 2012
MCC Alumni and Fine Arts Student Exhibition
September 15, 2012 to October 25, 2012
MCC Fine Arts Faculty Exhibition
July 13, 2012 to September 6, 2012