MCC Graduates 786 at 47th Annual Commencement Ceremony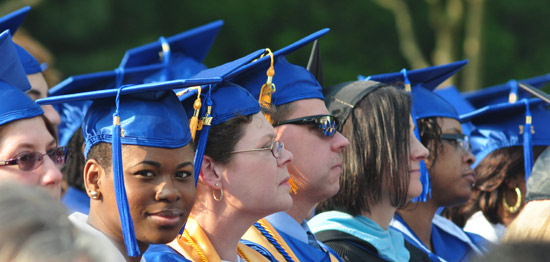 Manchester, Conn., – May 26, 2011 … Nine hundred and thirty-six degrees and certificates were awarded to 786 graduates at Manchester Community College's 47th annual commencement ceremony held on Thursday, May 26. Graduates from 79 towns across Connecticut and three other states were awarded associate in science degrees, associate in art degrees, and certificates. The youngest graduate was 18 years old and the oldest was 78.
The salutatorian was Phuong Kim Nguyen, of West Hartford, who was awarded an associate in science degree in accounting. Nguyen was born in Vietnam and came to the United States in July 2004. She had studied pharmacy in Vietnam and continued her studies initially at Capital Community College, transferring to Manchester Community College in Fall 2007. At MCC she pursued her degree in Accounting, earning an "A" in all of her courses and completed the requirement for degree this past December. She has been working part time as an accountant in the Law Office of Howard Lee Schiff since December, and will begin working full time in the fall.
Brian Edward Mulhall, of New Britain, was the 2011 valedictorian, earning an associate in science degree in engineering science. He began his college career with the intent to study business. However, as he began taking college courses, he discovered his passion for science and math, and transferred to Manchester Community College in 2009. Brian transferred in 43 credits and completed an additional 57 credits at MCC, earning an "A" in every course. He has been accepted to the University of Connecticut to pursue his bachelor's degree in mechanical engineering this fall. While at MCC, Brian worked as a supplemental tutor in a math classroom and as a peer tutor in the Academic Support Center. He was an active member in the Science and Engineering Club, and a member of Phi Theta Kappa.
During his address, Mulhall recounted his experience at MCC: "These last two years have been the most rewarding experience of my entire life. Here at Manchester, I found a place that was the perfect environment for me to thrive in. The combination of the small class size and dedicated faculty gave me the opportunity to develop the skills that would be the foundation upon which all my subsequent success was built. So much of my academic success can be attributed to the dedicated faculty, many of whom have spent countless hours helping prepare me for my future. Never were they too busy for someone eager to learn. None of what I accomplished in my time here would have been possible if not for their help and would like to take this chance to thank all of them for their support, guidance and friendship."
Production designer, costume designer, director, producer and Academy Award nominee Kristi Zea delivered the commencement address. Zea most recently completed the production design of Brett Ratner's Tower Heist. Before that her work was seen in Oliver Stone's Wall Street 2. Prior production design credits also include the critically acclaimed Sam Mendes film, Revolutionary Road, for which she was nominated for an Academy Award.
Zea encouraged graduates to define their own road to success, "Every person here has the capacity to succeed at something. You are here because you took the next big step. Success is not measured in financial terms only. You are all capable of achieving greatness. Not everyone will play the piano like Rubenstein, or throw a ball like Hank Aaron, or spin on point like Anna Pavlova, or sing like Lady Gaga. But in every act, and in every motion, authenticity and honesty are rewarded. The universe has a way of sensing this. If you think about it, once you decide to commit to something everything just seems to fall into place… almost miraculously. The trick is to believe in who you are, and allow the impossible to happen."
Mr. Pankaj N. Patel received the honorary degree of associate in humane letters, honoris causa. Mr. Patel is Plant Manager-Manufacturing at Timken Aerospace Transmissions in Manchester. He has been instrumental in granting the college significant funding crucial to the success of MCC's manufacturing programs, including supporting the purchase of software and equipment and funding a scholarship in the Precision Machining program. Mr. Patel is a member of the MCC Foundation Board of Directors.
Other awards that were presented during the ceremony include the Board of Trustees' Merit Award, which was presented to Eastern Connecticut Health Network (ECHN)
& Peter J. Karl, President & CEO, for their commitment and service to MCC.
The Regional Advisory Council's Community Service Award was presented to Joy Thompson, of Woodstock, for her service to the College. Thompson was awarded an associate in science degree in general studies.
Tonya Claud, of Bloomfield, received the President's Student Award. She is working toward an associate in science degree in the college's Disabilities Specialist program. The President's Student Award recognizes a student who has demonstrated unusual perseverance in spite of difficulties, obstacles or challenges.