MCC Appoints Local Residents to Foundation Board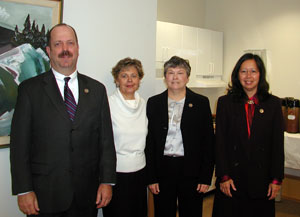 Pictured from left to right: Michael B. Lynch Jr.,
Melody Ryan, Elizabeth Kelly Treiber,
and Nanette Char
Manchester, CT – (March 24, 2006) . . . The Manchester Community College Foundation recently appointed four new members to its board of directors.
Elizabeth Kelly Treiber, of Willington, is the regional vice president of NewAlliance Bank. She attended MCC and graduated from the University of Connecticut. Treiber is very active in the community and has served on the Mansfield Downtown Partnership, Mansfield Lions Club and Windham Community Memorial Hospital Auxiliary Board.
Michael B. Lynch, Jr., of Manchester, is president of Lynch Motors, Inc. and owner of Lynch Toyota and Lynch Buick-Pontiac, located in Manchester. Lynch is a member of the Manchester Jaycees and the Conservation Commission of the Town of Manchester. He is also a board member for the Greater Hartford Automobile Dealers Association and a trustee for the Eastern Connecticut Health Network Foundation. Lynch is a long time resident of Manchester and a graduate of Manchester High School.
Melody Ryan, of Manchester, is a child advocate for the State Department of Education. She currently serves on the Manchester Scholarship Foundation, the board of the Lutz Children's Museum and the board of Emanuel Lutheran Church.
Nanette Char, of Glastonbury, is the owner of Char Consulting, a general management consulting business specializing in start-up organizations and development of new markets. Char is very involved in international affairs and also works part-time as a travel consultant.
The Manchester Community College Foundation is a private, nonprofit, 501(c) (3) Connecticut corporation. It is governed by a volunteer board of directors, composed of business and community leaders. Its board meets bi-monthly and lends its considerable expertise to the operations of the Foundation and the College's development program.
Students of any age who possess the desire to pursue higher education are welcome at Manchester Community College. MCC is proud of its academic excellence, new facilities, flexible schedules, small classes, low tuition and faculty with both academic and "real world" credentials. The College offers over 60 programs, transfer options, financial aid and scholarships, as well as access to baccalaureate degrees through guaranteed admissions programs with several universities. MCC is situated on a park-like campus and is easily accessible from I-84.