MCC Announces 2018-19 Scholarship Awards
MANCHESTER, Conn. (November 5, 2018) – Manchester Community College Foundation awarded a total of $217,000 in scholarship funding to more than 330 students for the 2018-19 academic year. A scholarship celebration was held Tuesday evening, October 30, in the SBM Charitable Foundation Auditorium. A reception followed for the recipients and their families.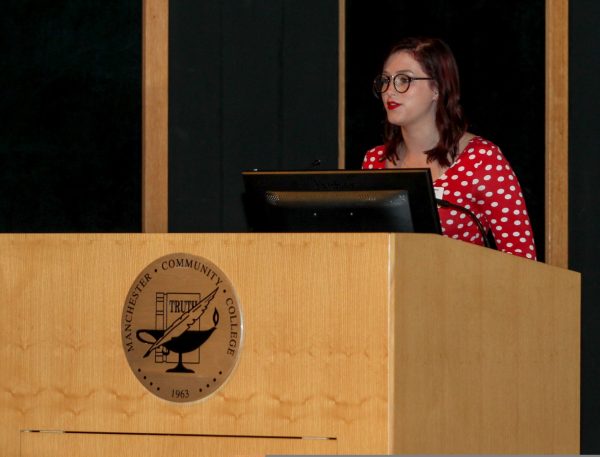 The student speaker was Marissa Petitto, of Bolton, a graphic design major who received a scholarship from the SBM Charitable Foundation, Inc. Petitto — who has overcome a number of serious challenges related to health and family — expects to graduate with an associate degree in May. She will go on to pursue degrees in clinical child psychology,
She thanked donors for enabling her to pursue her ambition to be a child and adolescent psychologist for traumatized children. "I want to use my story to help others in their recovery," she said. "Also, I plan to write and illustrate books for children who don't otherwise have access to traditional therapy or whose situation does not permit them to seek help."
She told the other scholarship awardees and their guests, "I have built a life I can be proud of, and now I want to share the knowledge that — with work and determination — success is possible."
Petitto added, "Without the generosity of scholarship donors, I would not be able to cover school and living expenses."
MCC Foundation gives hundreds of deserving students the opportunity to achieve their academic dreams through the scholarship program. Scholarship awards range from $150 to more than $1,000 and are available for both the spring and fall semesters. In addition, the foundation supports college programs.
Click the link for a complete list of the recipients, their awards and hometowns:
2018-19 Scholarship Recipients with Towns
About MCC Foundation – Manchester Community College Foundation, Inc. is a nonprofit 501(c)3 Connecticut corporation. It is governed by a volunteer board of directors, composed of business and community leaders who serve as advocates for the college and secure support for college priorities. Since 1968, MCC Foundation has supported the college's strategic initiatives via funding for student scholarships, college programs, and equipment. MCC Foundation helps build a network of community support and promotes better public understanding of the college as a regional resource.