Manchester Community College Lecturer is Recipient of Connecticut Board of Regents Adjunct Faculty Teaching Award
MANCHESTER, Conn.  (May 20, 2021) – Jessica Zolciak, a lecturer in biology at Manchester Community College, is a recipient of the 2020-21 Connecticut Board of Regents for Higher Education Adjunct Faculty Teaching Award.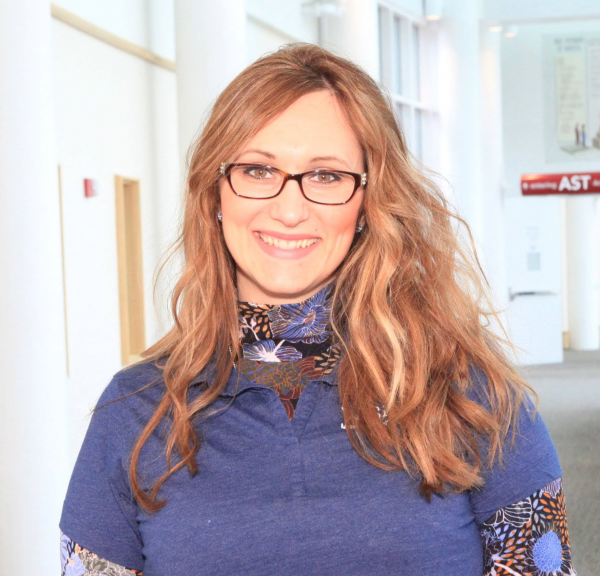 Zolciak, a resident of Suffield, has served as a part-time lecturer at MCC since 2014. The annual Adjunct Faculty Teaching Award recognizes part-time faculty who have distinguished themselves as outstanding teachers with a track record of increasing student learning and promoting instructional improvements for their programs or departments.
Criteria for the award focused on Zolciak's exceptional teaching skills and effective pedagogy, innovative and creative instructional delivery, impact on student learning, and instructional improvements and collegial collaborations.
"Jess is mission-driven to make available the best possible educational experience for her students," according to her nominator. "She brings the scientific method to her. It's this process that makes her a good teacher. In a complex learning environment, she is able to grab the right tools, and discover what works best while delivering instruction and reflecting on how to continuously improve her work and the lives of her students."
She joined MCC in 2002 as biology lab coordinator, a position she continues to hold in addition to her adjunct faculty course load, which includes Introduction to Biology, Human Biology, First-Year Experience, Microbiology and General Biology.
Her passion for teaching goes back many years. "Unofficially, I began teaching when asked to run a conference for the Manchester Public School system, focused on incorporating butterfly life cycles into middle-school classrooms and curriculum," Zolciak said. "I also was a guest lecturer for several MCC biology courses, demonstrating the animals in our saltwater tank.  A few years later, I became an adjunct faculty member and have been teaching ever since."
She earned a bachelor of science degree in biology from Eastern Connecticut State University and a master of science degree in biology, with a concentration in emerging infectious diseases , from St. Joseph University.
She was also coordinator of MCC's Women in STEM Learning Community from 2016 to 2020. WiSTEM, supported by a grant from the Aurora Foundation, served an important role in her approach to learning.
"The WiSTEM program was designed to help women find success in their chosen STEM field," she said. "There are many components to success beyond what happens in the classroom.  Developing resilience, making connections, and asking for help were key strategies used to help students root themselves in their chosen discipline.  This foundation helped students establish confidence and build a support network to achieve their educational and career goals."
About the Board of Regents Awards
The Board of Regents Faculty Awards were established by a board resolution on May 16, 2013. Five award categories, with potentially 38 individual awards of $1,000 each, were established to recognize junior faculty members at CSCU institutions who distinguish themselves as outstanding teachers or those who are engaged in exceptional research or creative work. The 32 individual awards are the campus-based awards in the categories of Teaching Awards for the four universities and also for the community colleges, Research Awards and the Scholarly Excellence Awards; and a single system award for each of those categories wherein an individual award recipient is deemed to be the system's best in exemplifying "high quality teaching" or "high-quality research/creative achievement." Additionally there are two system awards selected from institutional nominations for the Adjunct Faculty Teaching Awards.