Local Student Becomes National 2005 U.S. Women's Golden Gloves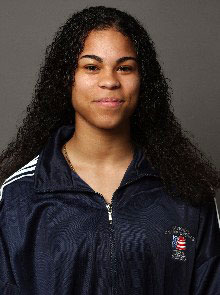 Manchester, CT – December 23, 2005 . . . It takes more than hard work to become a U.S. boxing champion. For Melissa Roberts, 19, of Manchester, a combination of hard work, dedication and perseverance lead her to become the national 2005 U.S. Women's Golden Gloves Champion.
Roberts, a student at Manchester Community College, majoring in sports and exercise, grabbed her second national title of 2005 at the Women's Golden Gloves in Chicago, IL. According to the USA Boxing organization, Roberts won three bouts on her way to gold defeating the 2005 National PAL Champion Jennifer Barber of Northridge, California. Roberts won the 2005 U.S. Championships in March.
Roberts, who is a featherweight, has been boxing for over two years and currently trains in Stafford, CT; she will be turning pro the summer of 2006. "Boxing is a challenge that allows me to grow and is always teaching me something new," stated Roberts. "I am very excited about my future and look forward to my boxing career." Roberts was also named USA Boxing female athlete of the month for November 2005.
USA Boxing, as the national governing body for Olympic-style boxing, is the United States' member organization of the International Amateur Boxing Association (AIBA). As a national governing body, USA Boxing is responsible for the administration, development and promotion of Olympic-style boxing in the United States.
Students of any age who possess the desire to pursue higher education are welcome at Manchester Community College. MCC is proud of its academic excellence, new facilities, flexible schedules, small classes, low tuition and faculty with both academic and "real world" credentials. The College offers over 60 programs, transfer options, financial aid and scholarships, as well as access to baccalaureate degrees through guaranteed admissions programs with several universities. MCC is situated on a park-like campus and is easily accessible from I-84.