Welcome to the Library
The Raymond F. Damato Library is located in the Learning Resource Center in A112. It offers many amenities including six group study rooms, individual study carrels, computers, Wi-Fi, laser printing (black & white and color), scanning and photocopying. A magnification device for printed material is also available. In addition to traditional materials like books and DVDs, students may borrow equipment such as laptops, Wi-Fi hotspots, and calculators. The Fireside Commons is a large contemplative space that is a designated quiet study area and features a working fireplace. The William R. Johnson Library Garden is also available during warmer months for students and members of the MCC community to enjoy. Live chat assistance is available 24/7 on the Library's website.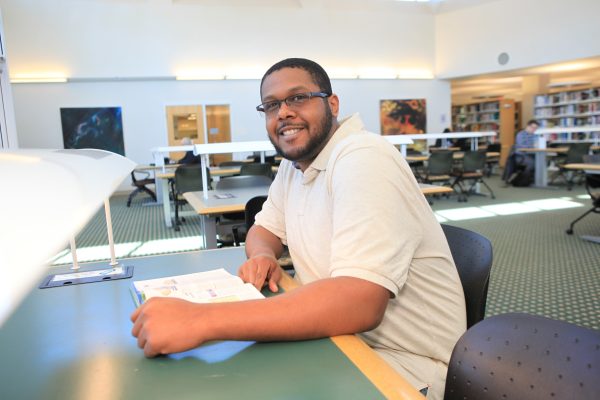 Library Facilities and Services
Reference and Research
Reference assistance provided by MCC librarians is available during library hours. The reference librarian on duty will assist you with locating and citing sources, and well as searching our subscription databases and the Internet. They can also answer general software, technology, and printing questions. Librarians are also available by appointment, which may be scheduled at libcal.manchestercc.edu.
Circulation/Reserve
The Library is open to students, faculty, staff and community residents. Reserve materials are kept behind the circulation desk for students and include items such as textbooks, graphing calculators, and photography equipment. For most items, loan periods are specified by the instructor.
Printing/Scanning/Photocopying
There are three multi-function printers (two black & white and one color) in the Library that you can use for printing or photocopying. The cost is .08 per page for b&w and .25 per page for color.
A scanning station is also available free of charge to scan books, documents, and photos to Email, USB, and Cloud Services such as OneDrive. The Library staff at the front desk are always happy to assist with these services.
Interlibrary Loan
Interlibrary Loan is a service that enables MCC-affiliated patrons to borrow books owned by other libraries. This service is available to current MCC students, faculty, staff and retirees. Visit the Interlibrary Loan page for more information.
Journals, Magazines and Newspapers
The library subscribes to over 300 periodicals, in either print or online. Periodical issues in print may be borrowed for 7 days and may be renewed for an additional 7 days.
Group Study Rooms
Group study rooms are available for groups of 1 to 4, 2 to 6, and for groups of 6 or more people. Group study rooms can be used for up to 2 hours at a time on a first come, first served basis. Study rooms can be reserved up to 2 weeks in advance using the online reservation system at libcal.manchestercc.edu.
Guest Computer Use
Community members may use four designated guest computers. Community members must check in at the Circulation Desk and provide a current photo ID with address each time to use a computer. A completed registration form is also required but will remain on file for the entire semester. The Library circulation staff will then issue a username and password with which to sign into a guest computer. Use of guest computers is limited to a maximum of 2 hours per day.
Fireside Commons
The Fireside Commons is designated as the library's quiet study room. However, there are times when events are scheduled for this room. During those times, every attempt will be made by the group scheduling the function to post signage indicating the day/time of the event.
Donations
The MCC Library reserves the right to accept or decline offers of donated materials. Donated materials will be assessed for their relevance to the library's collections and may be added to the collection or given away at the library's discretion.
Library Garden
The Library Garden is available during warmer months for patrons to enjoy. We ask that you bring in any library materials you have taken out to the garden area and to dispose of all trash. Smoking is prohibited in the garden.
Borrowing Policies
For MCC students, faculty and staff, the college ID card serves as your library card. An MCC Library card is required for guests to borrow. Any Connecticut resident 15 years of age or older with ID containing both name and address may be issued a library card. Children under 15 who are currently enrolled in a MCC college program may be issued a library card with the consent of a parent or guardian.
Individual borrowers of library materials and equipment are responsible for the prompt return of items loaned to them in the same physical condition as received. The privilege of borrowing is a personal one and may not be transferred. If a library card is lost or stolen, it must be reported immediately to the library staff. If library material is damaged, missing, lost or stolen, borrowers are responsible for any assessed replacement costs.
Loan Periods
Books and Audiobooks: 3 weeks with a 2-week renewal on or before the due date. Current MCC faculty and staff may borrow books in the New Books or Stacks location for 120 days with one 120-day renewal.
Best Sellers: 2 weeks, no renewals.
DVDs and Compact Discs: 1 week with a 1-week renewal on or before the due date.
Laptops/WiFi Hotspots: Will be loaned to approved MCC students for the entire semester, no renewals.
iPads: Students: 2-days, no renewals; Faculty & Staff: 1-week, no renewals.
Periodicals Issues: 7-days with a 7-day renewal on or before the due date.
Reserve Materials: 2 hours in library; 1-day, 2-day or 1-week (loan period specified by instructor). Reserve items that circulate outside of the library may be renewed only if there is another circulating copy of the same item on the shelf. All other reserve items may not be renewed.
Loan Limits
MCC students may have up to 10 items checked out at any one time.
MCC faculty and staff may have up to 20 items checked out at any one time.
Community borrowers may have up to 5 items checked out at any one time.
Overdue Fines
The Library does not charge overdue fines for most materials, but there are a few exceptions noted below.
Overdue reserve materials (textbooks, etc.) are $5 per day, up to a maximum of $20 per item.
Overdue iPads, Photography equipment, and WiFi hotspots are $5 per day, up to a maximum of $20.
Overdue laptops are $ 5 per day, up to a maximum of $30.
Courtesy notices will be sent to MCC students, faculty and staff via college email 1 day before item(s) are due. For guest borrowers, notices will be sent to the personal email address the Library has on file.
Replacement Costs
If borrowed library material is lost or damaged, the borrower is responsible for all replacement costs, including a $10 processing fee for each item.
Students with unpaid fines or bills for lost/damaged materials may be blocked from registering for further courses or from receiving their degree. As soon as the materials are returned, or the bill is paid, the charge will be removed from the borrower's account.
Suspension of Borrowing Privileges
Any one of the following problems on a patron's library account may result in the suspension of borrowing privileges:
1 lost item
2 overdue items
$10 or more in fines and/or fees
A blocked borrower will not be permitted to borrow materials, unless the materials are returned, or the bill is paid. Textbooks on reserve may still be borrowed by students with lost or missing items, but are not permitted to leave the library.
General Library Policies
Raymond F. Damato Library staff strives to create an environment that is conducive to research, reading and study. Patrons are asked to observe the following guidelines:
Smoking and vaping are prohibited in all areas of the library.
Library users may bring small, odorless food items into the library; however, no food is allowed near the computers or in group study rooms.
Drinks are allowed but must be in spill-proof containers.
Library users exhibiting disorderly, destructive, or threatening behavior will be asked to leave.
Noise should be kept to a minimum out of respect for other library users (e.g., turn off cell phone ringers).
Children under 12 may not be left unattended.
View Full Library Policies (PDF)
---
Looking for a good book to read?
Find suggestions and the opportunity to join in online discussions of popular reading material from our Reading Guide
---
Library Staff
Contact information for the library staff.
Library Hours
Hours of operation for the Raymond F. Damato Library.