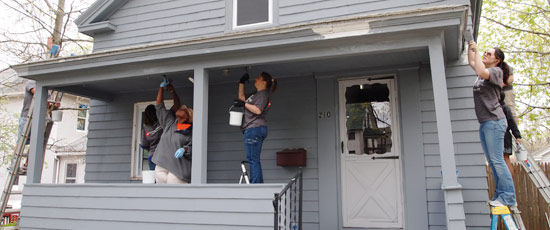 Tell me and I forget. Teach me and I may remember. Involve me and I will learn.
— Benjamin Franklin
Service-learning combines civic engagement with academic coursework in a way that benefits both the student and the community. At MCC, students participate in service projects that are tied to courses in English, criminal justice, sociology, marketing, business, art and other disciplines.
The mission of service learning is to facilitate student academic learning through meaningful service experiences, which encourage and enable MCC faculty and students to positively impact the community. The Service Learning Program seeks to bring campus and community together in partnership to share resources, meet real community needs, and help to educate our students to become the change agents of tomorrow.
Goals
To match students' interests with appropriate sites and projects for community service and service learning
To assist faculty on how to incorporate community service and service learning educational components into their classes
To build meaningful connections with community partners and service opportunities for MCC students, faculty and staff
"College students who participate in civic engagement learning activities not only earn higher grade point averages but also have higher retention rates and are more likely to complete their college degree. They also demonstrate improved academic content knowledge, critical thinking skills, written and verbal communication, and leadership skills. Moreover, these students show increased interest in becoming personally and professionally involved in future community enhancement projects."
Source: Cress, Burack, Dwight, Elkins & Carns Stevens, Connecticut Campus Compact
BENEFITS
For Students
Brings academic instruction to life
Prepares individuals to participate in internships and research
Allows exploration of career options
Teaches workforce skills
Provides opportunities to accommodate different learning styles
Develops connections with people of diverse cultures and lifestyles
Develops meaningful involvement with the local community
For the Community
Provides awareness-building of community issues, agencies, and constituents
Provides affordable access to professional development
Develops short and long term solutions to pressing community needs
Creates ways to expand current services
Increases human resources for problem solving
Provides opportunities for participating in the educational process
Contributes to positive exposure in the community
For the College
Furthers the goals of Monroe Community College's strategic plan
Drives the college as an active, engaged partner in the community
Facilitates teaching, research and program development
Increases student retention
Enriches the quality and relevancy of the education provided
Allows for faculty to mentor students
Increases College's awareness of societal issues as they relate to academic areas of Interest
Assists in the development of innovative approaches to instruction
Provides opportunities for collaborative community research and project development
Engages faculty and students in local and state community issues
Provides opportunities to extend College's knowledge and resources
Increases development and preparation of college graduates
Contact Information
Meghan Finley
ACE Program Coordinator and Instructor of Sociology
860-512-2758
Maria Koistinen
Educational Assistant
860-512-2783