Heather Winter '14 is Alumni Speaker for 51st Commencement Exercises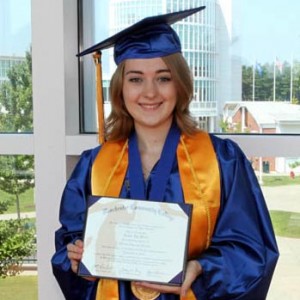 The Alumni Speaker for Manchester Community College's 51st Commencement ceremony is Heather Winter '14. Winter, who is now attending the University of Connecticut, graduated from MCC summa cum laude and was a Board of Regents Medallion recipient.
She transferred to UConn under the Guaranteed Admissions Program and is working toward a bachelor of science degree in nutritional sciences.
Winter was homeschooled until she entered MCC. In her first experience in a traditional education environment, she made many memorable connections with her professors and peers and was offered a position tutoring French and ESL students in her second year. "This proved a highly rewarding experience, which led me to strengthen my knowledge of the French language, as well as develop my skills in effective communication with students who did not speak English as a first language – many of whom had recently moved to the United States," she said.
With these students, Winter made sincere efforts to offer advice and guidance not only in their academics, but also to assist in their transition to American culture and life as a student at MCC.
When she was not occupied studying and tutoring, she was an active member of the Phi Theta Kappa academic honor society, and the Alpha Mu Gamma foreign language honor society.
#MCC_CT2015
Distinguished Alumna Speech – Heather Winter – Manchester Community College 2015.