Hans Weiss to Receive Honorary Associate Degree
MANCHESTER, Conn. (May 28, 2019) – Manchester Community College will present Hans Weiss, whose generous support of the college lends the story behind the name of MCC's campus art gallery — the Hans Weiss Newspace Gallery — with an associate degree in humane letters honoris causa at the college's 55th Commencement Ceremony on Wednesday, May 29, 2019.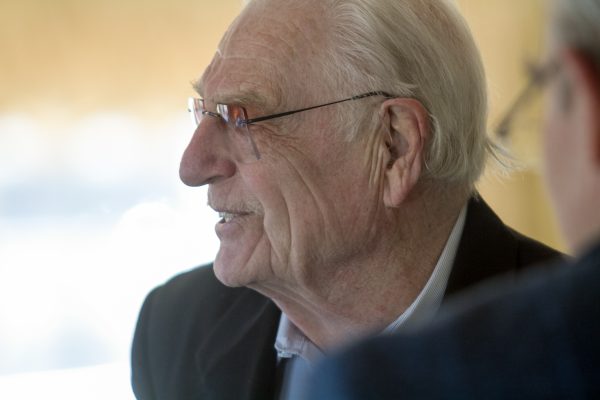 Weiss, a local artist who lives with his wife Lottie in Vernon, has owned the Weiss Gallery in Manchester since 1980. He has served on the board of directors of MCC Foundation since 1990.
Over the years, the named gallery space at MCC has exhibited work by emerging and acclaimed local and international artists, as well as student art. In 2004, he pledged $100,000 to establish the Hans Weiss Arts Scholarship and, in 2011, he was the recipient of MCC Foundation's Hall of Fame Award for his contribution to the growth of the college and its educational programs. He has made a tradition of donating portraits and other prints to the college and MCC Foundation.
Weiss was born in 1931 in a small German farming village in Slovakia and began painting as a young boy. During World War II, he and his family survived a concentration camp and later were sent to live in communist East Germany. All of Weiss' earliest paintings and drawings were lost during the war.
At age 14 he began to paint again, using brushes made from his mother's hair. He and his family finally escaped to West Germany and, at age 18, Weiss immigrated to the United States where he attended various arts and technical schools in Connecticut. Many of his drawings and paintings are a reflection of his early childhood, and many of his subjects are people from his small village in Slovakia.
The 55th Commencement Ceremony will be held in Central Connecticut State University Welte Auditorium at 5:30 p.m.