Gallery Hours
Monday-Thursday: 9:00 a.m.-4:30 p.m.
Friday: 9:00 a.m.-3:00 p.m.
Location
SBM Charitable Foundation Building, First Floor
---
Submissions
The Hans Weiss Newspace Gallery reviews work on an ongoing basis. Materials (images, resume and statement) can be forwarded to:
Maura O'Connor
Hans Weiss Newspace Gallery
Manchester Community College
Great Path, MS#19
Manchester, CT 06040
Current Exhibit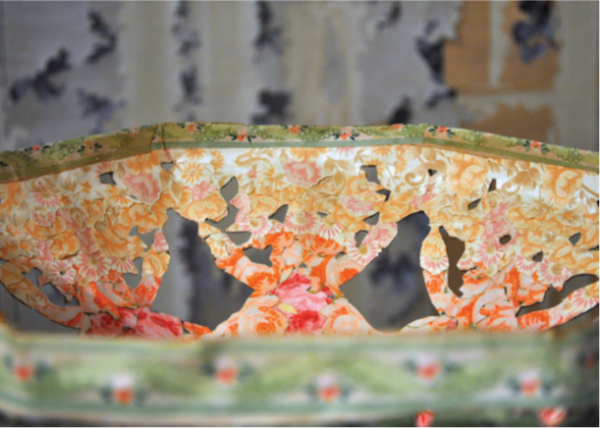 Detail, "Crumbs Under My Pillow," by Elizabeth Alexander
Shifting Patterns
September 21-November 15, 2023
Opening Reception
Thursday, September 21, 6:00 p.m.
Shifting Patterns is a group exhibition featuring works by four contemporary artists: Elizabeth Alexander (MA), Eliza Au (TX), Daisy Patton (MA), and Adero Willard (NY/MA). Collectively, these artists' works invite us to reimagine how we connect with our own stories, subjectivity, and mutual experience, and to consider the ways in which our past informs our present. The brilliance of each artist in relation to their own craft is evident in their thoughtful and engaging works, which encourage us to explore our own narratives and perspectives.
Using languages of repetition, alteration, detail, and color the artists challenge inherent signifiers and create new stories within their various mediums. Whether through cast or found objects, installation, ceramic sculpture, decorative motif, or historical portrait photography, the suggestion of memory is embedded in the material choices of each artist's work.
The exhibition raises important questions about our personal and cultural associations with objects, visual motifs, and representations. How do we sift through layers of historical, collective and personal recollections to define our present? How might the narratives we embody be re-presented, re-layered, or extracted to reveal the unexpected? By exploring these themes, Shifting Patterns offers a thought-provoking experience for all visitors.
Elizabeth Alexander
Eliza Au
Daisy Patton
Adero Willard
---
Previous Exhibitions
Spring Arts Festival – May 12-August 24, 2023
Diversity in Weaving: Harfort Artisans Weaving Center – March 9-April 19, 2023
Winter Arts Festival – December 16, 2022-February 8, 2023
Jack Lardis: Color Unbridled – September 29-November 16, 2022
Spring Arts Festival – May 12-August 24, 2022
Berrisford Boothe – March 28-April 29, 2022
The Art of Teaching Art: Connecticut Community Colleges Art and Design Faculty Exhibition – January 28-March 11, 2022
Winter Arts Festival – December 16, 2021-January 14, 2022
Winter Arts Festival – December 28, 2020
Faculty Art Show – November 30, 2020
Spring Arts Festival – May 28, 2020
Nafis M. White – February 6, 2020-March 17, 2020
Winter Arts Festival – December 13, 2019-January 17, 2020
Joshua Abelow and William King – October 31-December 4, 2019
Connecticut Fellowship Artists – September 12-October 17, 2019
Spring Arts Festival, May 17-August 15, 2019
Fabular Objects, Hirokazau Fukawa – March 28-May 7, 2019
Fine Art Faculty Exhibition – February 7-March 20, 2019
Student Art Exhibition – December 14, 2018 to January 15, 2019
Tell Us A Story – November 1 to December 4, 2018
A Suspension of Stereotypic Perception – September 13 to October 16, 2018
Student Visual Art – May 11 to August 15, 2018
MONSTERS among/within – March 29 to May 3, 2018
Wash With Like Colors – February 8 to March 22, 2018
Winter Arts Festival – December 15, 2017 to January 16, 2018
Further On – November 2 to December 6, 2017
the daydreaming SEA – September 14 to October 23, 2017
Student Fine Art Exhibition – May 12 to August 7, 2017
ABSTRACT – March 30 to May 2, 2017
Break It Down Shake It Up – Fine Art Faculty Exhibition – February 2 to March 8, 2017
Winter Arts Festival – December 16, 2016 to January 16, 2017
Women's Work – October 27 to November 30, 2016
Object Lessons – September 15 to October 18, 2016
Spring Arts Festival – May 20 to August 23, 2016
Tom Hébert – April 7 to May 4, 2016
IN OUT (works of the body) – February 11 to March 16, 2016
Winter Arts Festival: Student Fine Art Exhibition – December 18, 2015 to January 20, 2016
Rashaad Newsome: Shade Compositions – November 5 to December 10. 2015
Just Imagine, September 10 to October 22, 2015
Spring Arts Festival, Student Fine Art Exhibition – May 15 to August 30, 2015
Sol LeWit – February 19 to April 29, 2015
Fine Arts Festival, Student Fine Art Exhibition – December 12, 2014 to January 20, 2015
Fine Art Faculty Exhibition – October 23 to December 3, 2014
Winter Arts Festival – December 14, 2013 to January 14, 2014
Habitat – October 24 to December 4, 2013
Newly Minted – September 12 to October 16, 2013
2013 Spring Arts Festival – May 17 to August 8, 2013
Esther Solondz – Retrospective – April 4 to May 9, 2013
Fine Art Faculty Exhibition – February 7 to March 25, 2013
Winter Arts Festival – December 14, 2012 to January 14, 2013
It's Your Nature – October 25 to December 4, 2012
Beyond Borders: Works by 10 Self-Taught Artists – September 6 to October 16, 2012
Spring Arts Festival – May 11 to June 20, 2012
Faculty Exhibit – March 29 to April 25, 2012
PRESENT: Works by Chotsani E. Dean and Howard el-Yasin – February 2 to March 12, 2012
Winter Arts Festival – December 16, 2011 to January 19, 2012
Zbigniew Grzyb: A Retrospective (1995–2011) – September 8 to October 20, 2011
MCC Spring Arts Festival – May 13 to June 24, 2011
Adolf Dehn – March 17 to April 27, 2011
Faculty Exhibition Artists – February 3 to March 7, 2011
Winter Arts Festival – December 17, 2010 to January 2011
Quilts by Ed Johnetta Miller – October 28 to December 2, 2010
New works by Cat Balco and Matt Towers – September 9 to October 15, 2010
Pasha Radetzki – March 11 to April 28, 2010
Heart Gallery – February 4 to March 4, 2010
Art/Work – Oct 29 to Dec 8, 2009
Go Figure – Sept 17 to Oct 20, 2009
Chris Hausbeck – Feb 5 to March 12, 2009
Feed the Beast – Oct 16 to Nov 26, 2008
Drawn – Sept 4 to Oct 9, 2008
Paint – March 27 to May 1, 2008
The Toy Show – Feb 7 to March 12, 2008
Out of Thin Air – Sept 6 to Oct 17, 2007
Loneliness & Melancholy – March 29 to May 1, 2007
The Love Show – March 16 to May 1, 2006