Graduate Success Story: Gordon Plouffe Reinvented Himself Through MCC Program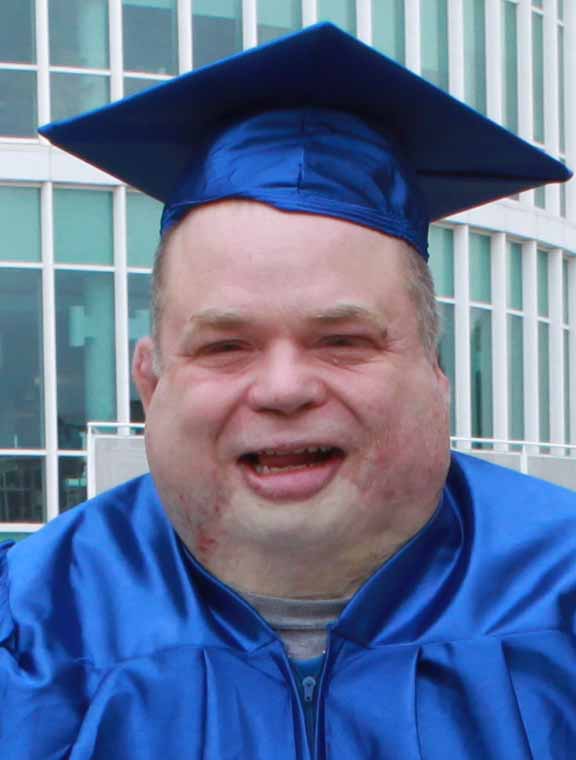 Gordon Plouffe is one of the members of the Class of 2014 who will be celebrating their graduation from Manchester Community College Thursday, May 29. The college's 50th Commencement Exercises will begin at 5:30 p.m. at the Bicentennial Band Shell on the campus lawn.
Plouffe will receive his medical insurance specialist certification from MCC's Business Office Technology (BOT) program. His credits will roll into an associate degree program, which he will continue to pursue.
He has come a long way since 2007, when he was out of work and practically out of hope. The once active and productive 30-year restaurant industry veteran had been slowed by an illness and, by then, he was bedridden and fighting for his life. "I had been so sick for so long that I really didn't see any hope of changing my situation," he said.
Then by chance, while scrolling through Facebook in the spring of 2011, he saw an advertisement for Graduate CT, an organization that reached out to former students who had been away from school for a while.
"I called them and they put me in touch with Bess Lewis of MCC's Adults in Transition program and Carla Adams in the BOT [Business Office Technology] program," said Plouffe. Lewis assured him that coming back to college was a real possibility and an excellent bridge to a new career, while Adams has been his advisor from the start and sent him down a specific career path that will eventually allow him to support himself again.
"I didn't know about the BOT program," Plouffe recalled, "but I had in mind what kind of things I would be strong at and that BOT would be suited for me. I met with Carla and she agreed."
Plouffe originally came to MCC in 1980 after graduating from Manchester High and admits that he was not ready for college the first time around. He used up his financial aid while piecing together a 1.5 GPA, left school and went to work.
"Now that I'm a little older, I know what it is to build a career and how important an education is," he said. "I'm back at MCC and now I'm an A student."
Adams knew she had a special person on her hands from the day they met. "MCC has given him a platform to reinvent himself. The fact that I'm even a slight part of his reinvention inspires me every day," she said. "He is so positive, so joyful and happy to be living and experiencing and learning."
Plouffe was the first recipient of the Vickie J. Rice Memorial Award created by the Administrative Professionals Club on campus.
"I'm doing my best as a part-time student to get through and finish my classes," he said. "I have a strong desire to get the associate degree because I know how important it is, but at the same time, I'm actually prepared to get a job in the medical billing and coding field right now. I can support myself and save money to continue taking classes while I'm working in a career that MCC programs prepare me for."
Plouffe came back to MCC with some physical limitations and thought an office environment would suit him well, but he had no computer knowledge. He used the last of the money he had saved to buy a computer and taught himself Microsoft Office.
"Because of the series of events in my life, I was kind of familiar with the medical environment and the terminology," he said. "When we put together those little bits and pieces, we thought working in some sort of medical office would be a good choice for me."
Plouffe has emerged as a role model for other non-traditional aged students and has become a mentor for many students over his two and half, life-changing years at MCC.
"I think that Gordon will be a phenomenal employee," said Adams, who is the BOT co-chair and Administration Professionals Club advisor. "His perceived limitations are not at all. And I think he has grown to realize that they are not."