Graduate Story: Timothy Fallis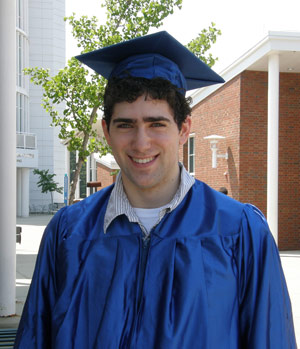 Graduate Timothy Fallis
Timothy Fallis
Major: Culinary Arts, Food Service Management and Hotel Management
Hometown: Southington, CT
On May 31, 2012, Timothy (Tim) Fallis, who in his own words and those of his professors is described as "hard working and responsible," graduated from MCC with associate of science degrees in three program areas – Culinary Arts, Foodservice Management and Hotel-Tourism Management. Tim chose Manchester Community College because it was close to home, affordable and one of only a few schools in the area that offered degree programs in these three areas.
Of all the classes he took, Tim liked the hands-on aspect of the culinary arts curriculum the best. Some of his classes he took online, but he prefers a classroom setting with the opportunities to physically interact with others during classroom demonstrations and discussions. Regardless of the classroom setting, Tim appreciated the college's knowledgeable and experienced faculty and felt they were always willing to help.
While in college, Tim was a member of the ice carving team during the fall semester of 2011, played intramural volleyball and participated in activities sponsored by the Hospitality Industry Association.
He also has been working full-time at Brittany Farms Health Center in New Britain in the kitchen and dining area.
Tim's future plans involve transferring to the University of Connecticut and earning a bachelor's degree in Nutrition with a minor in Food Science and eventually a master's degree. For Tim, education is important because it "helps you grow in life and there are more options available to you with an advanced degree than just a high school diploma." As far as a career, Tim has set his sights on becoming a dietician or conducting research in a food lab.
Students of any age who possess the desire to pursue higher education are welcome at Manchester Community College. MCC is proud of its academic excellence, new facilities, flexible schedules, small classes, low tuition and faculty with both academic and "real world" credentials. The College offers over 60 programs, transfer options, financial aid and scholarships, as well as access to baccalaureate degrees through guaranteed admissions programs with several universities. MCC is situated on a park-like campus and is easily accessible from I-84.