Graduate Story: Meghan Spielman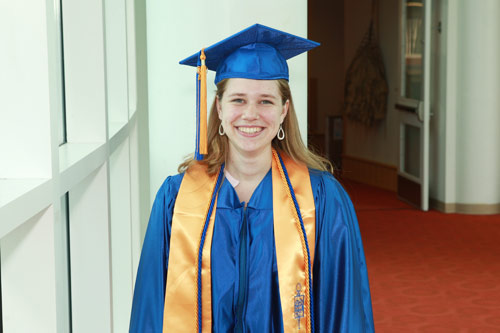 Meghan Spielman
Meghan Spielman
Major: Occupational Therapy Assistant
Hometown: Somers
Thursday, May 31, 2012, is graduation day for Meghan Spielman, who is receiving her associate degree from the Occupational Therapy Assistant program at Manchester Community College. Meghan's road to graduation was not always easy, last spring, she was diagnosed with thyroid cancer and had to take incompletes in her classes to focus on her health. After overcoming cancer, she returned to complete her classes last summer with the support of the faculty and staff at MCC.
Meghan chose to attend MCC based on the recommendation of a family member who had also gone through the Occupational Therapy Assistant program. She is glad she did. When asked what she liked most about attending MCC her reply was, "What don't I like? Everyone is so dedicated to learning, everyone is welcoming, and everyone is dedicated to student success."
While here at MCC, Spielman has received scholarships form the SBM Charitable Foundation, she is a member of Phi Theta Kappa; the international honor society recognizing academic achievement of associate degree students; and she has served as secretary of the Occupational Therapy Club.
Spielman has also made an impression on her professors, such as Maggie Moriarty, who said, "Meghan Spielman is one of those students whose zest for learning is infectious and I am reminded anew each day why I so love the teaching-learning process. Meghan's exuberance for the whole education experience has enriched the lives of all of us fortunate enough to have been a part of her MCC journey."
In the future, Meghan plans to attend Bay Path College to purse her bachelor's and master's degree in Occupational Therapy and one day hope to return to MCC as an Occupational Therapy Assistant professor.
Students of any age who possess the desire to pursue higher education are welcome at Manchester Community College. MCC is proud of its academic excellence, new facilities, flexible schedules, small classes, low tuition and faculty with both academic and "real world" credentials. The College offers over 60 programs, transfer options, financial aid and scholarships, as well as access to baccalaureate degrees through guaranteed admissions programs with several universities. MCC is situated on a park-like campus and is easily accessible from I-84.