Graduate Story: Jackie Jackter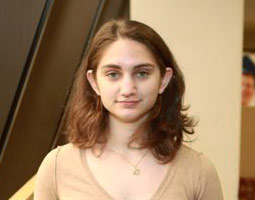 Jackie Jackter
Jackie Jackter
Major: Biology
Hometown: Colchester
Jackie Jackter, a resident of Colchester, will graduate from Manchester Community College on May 31, 2012, with a Liberal Arts and Science associate degree and an impressive 3.94 grade point average. Her path to graduation has taken a few turns along the way. After graduating from high school Jackie began attending UConn, but she quickly realized that it was not the right fit for her, it was just too big.
Jackie decided to leave UConn and began taking business classes online. Although the online classes worked out well, Jackie missed the classroom environment and her advisor at University of Phoenix recommended she look at local community colleges. She did just that and selected MCC. "MCC is great, I am really glad I ended up here," stated Jackie.
One of the things she enjoys most about MCC is the small class sizes and community feel. "The small class sizes, allow me to ask questions and get extra help when needed. My advisor has been great at helping me look at colleges and other research opportunities. I feel more important here than at a large college."
Jackie was one of eleven students from Connecticut's community and junior colleges recognized as a member of the All-Connecticut Academic Team at an awards ceremony last month at the State Capitol Building. Team members are selected based on their scholarly achievements, leadership accomplishments and nominations from their college. She is also an active member of Phi Theta Kappa (the international honor society recognizing academic achievement of associate degree students) and enjoys participating in the society's volunteer opportunities.
When asked why education is important to her, Jackter responded, " It's important because I love learning and I want to discover things currently unknown. Hopefully I will continue this in my career, but I need the educational backing to obtain that career."
Jackie will be transferring to Mount Holyoke College in the fall and majoring in Neuroscience and Behavior. She hopes to attain a doctoral degree and develop a career conducting psychobiological research.
Students of any age who possess the desire to pursue higher education are welcome at Manchester Community College. MCC is proud of its academic excellence, new facilities, flexible schedules, small classes, low tuition and faculty with both academic and "real world" credentials. The College offers over 60 programs, transfer options, financial aid and scholarships, as well as access to baccalaureate degrees through guaranteed admissions programs with several universities. MCC is situated on a park-like campus and is easily accessible from I-84.
###