Graduate Story: Fruzsina Kovesdi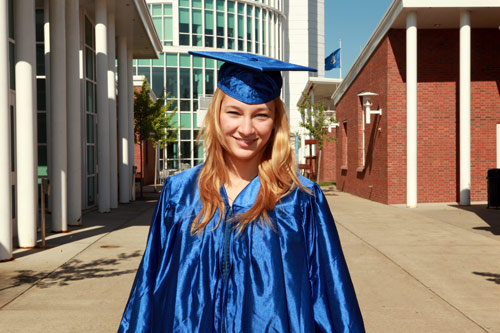 Fruzsina Kovesdi
Fruzsina Kovesdi
Major: Accounting and Business Administration Transfer
Home town: Rocky Hill, CT
Fruzsina Kovesdi, a resident of Rocky Hill, emigrated from Hungary with her mother and sister for family reasons. Recognizing that her English language skills needed to be improved, she enrolled in an ESL class in the Rocky Hill Adult Education Program. Determined to be successful, she took the MCC assessment test and at that time learned about the STARS program at MCC. According to Fuzsina, "The STARS Program was a wonderful experience and I learned a lot." The Stars Program is an intensive six-week summer bridge program for incoming students.
She enrolled in Manchester Community College in the Fall 2008 semester, fewer than two years after moving to Connecticut. She chose to attend MCC because she had heard good things about the college. Following her example, her sister enrolled at MCC as a full- time student in Fall 2011 and her mother is a part time student, as well. She has been a student worker in the MCC Business Office for two years.
Fruzsina's educational goal is to transfer to a baccalaureate university, earn a bachelor's degree and become a Certified Public Accountant. She especially enjoyed her math classes at MCC and found the fields of accounting and business very interesting.
In discussing her experience at the college, she cited two MCC professors who had the greatest impact on her. They were Diana Hossain, Professor of ESL and English, and Michael Robillard, Professor of Mathematics, both of whom were passionate about their subjects and related life experiences to what they were teaching.
She will graduate from MCC in May 2012. " I am the first person in my family to earn an associate degree and I want to get the most out of the opportunities that come to me." She is proud of her accomplishments, especially her mastery of the English language, and is grateful to her mother and sister for their continuing support.