Graduate Story: Benjamin White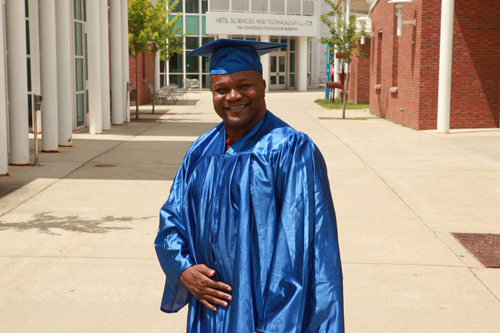 Benjamin White
Benjamin White
Major: DARC/Criminal Justice
Hometown: East Hartford
Benjamin White, a resident of East Hartford, will graduate from Manchester Community College on May 31, 2012, with an associate degree from the Drug and Alcohol Recovery Counselor (DARC). Ben relocated to Connecticut from North Carolina when he was looking for a fresh start and new career opportunity after a working in the field of real estate.
He choose to attend MCC based on the classes offered and convenience and ended up loving the supportive atmosphere, diversity and the resources available to help student become the best they can be. White enjoyed all of his professors stating, "I loved them all…every single one has their own unique style, but the ultimate goal is to assist in all students graduating from MCC."
Barbara Fox, DARC Program Coordinator stated, "Ben was one of the most energetic and devoted DARC students in my program. He became active in the DARC Club and also in student government. He always had good things to say about MCC and the DARC program and was always willing to help fellow students in and out of the classroom.
While attending MCC, White had been active in student government and served as vice president of the Student Government Association, co-chair of the Cultural Programs Committee and co-chair of the Student Activities Committee. He also worked in the fitness center through the work-study program, and completed internships with the Community Renewal Team and Washington Elementary School in Manchester.
White has made the President's List, which recognizes students who have earned a 4.0 in their classes and received the NewAlliance Bank Foundation Scholarship. He also received the MCC College Student Leadership Award, given in honor of Jibreel Khazan, in February 2011. Ben is also a member of Phi Theta Kappa, the international honor society recognizing the academic achievement of associate degree students.
After graduation, Ben plans to continue working toward his bachelor's degree in Social Work and would like to obtain his doctoral degree from Harvard University. Ben's long-term goals include running for United States Senate one day.
Students of any age who possess the desire to pursue higher education are welcome at Manchester Community College. MCC is proud of its academic excellence, new facilities, flexible schedules, small classes, low tuition and faculty with both academic and "real world" credentials. The College offers over 60 programs, transfer options, financial aid and scholarships, as well as access to baccalaureate degrees through guaranteed admissions programs with several universities. MCC is situated on a park-like campus and is easily accessible from I-84.