On our 50th birthday, MCC Foundation is celebrating you – our amazing community of supporters.
Every day at MCC we witness your generosity hard at work – a mother with a toddler in tow at the Registrar's office, a veteran seeking a new path through education by visiting the Veterans OASIS, or an aspiring chef purchasing her kitchen uniform.
These are simple moments filled with dreams of achievement. They are the dreams that you make possible when you give to MCC Foundation. Please take a moment to celebrate the impact of your commitment to this amazing community.
Cheers!
---
Introducing Dr. Tanya Millner-Harlee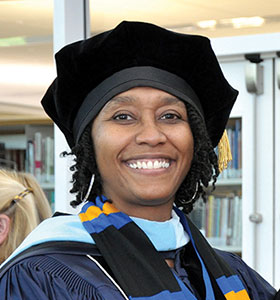 Tanya Millner-Harlee is the interim Chief Executive Officer at Manchester Community College. She began her tenure on June 15, 2018.
She is the sixth leader of the college since its founding in 1963, the first African American in this role, and is the first to hold the title of Chief Executive Officer.
"I greatly appreciate the Foundation's 50 years of support of MCC's vision and mission to ensure student success by providing our community access to rigorous academic programs and rewarding workforce opportunities. I look forward to working closely with you as I take on this exciting new role at the college and we continue to support our legacy of transforming lives and providing amazing prospects for an educated and productive citizenry."
– Dr. Tanya Millner-Harlee
---
Scholarships Turn Dreams Into Goals
"I am doing this for my daughter…to receive assistance that helps fund my education is a dream come true."
– Rachel Watts, Radiography Student
When students like Rachel Watts begin their clinical training in radiography, they work within real hospital environments with specialized equipment. Preparing MCC students for practical training necessitates learning tools that closely model those they will encounter on the job. That's why we're so excited about the installation of an up-to-date radiography lab, a project made possible through funds raised from Campaign 2020.
Thank you for making projects like these possible!
---
Naming Spaces: Lasting Legacies
This year, the Culinary Arts South Kitchen was dedicated to the Highland Park Families Foundation in recognition os the many years of support provided by local grocer Highland Park Market.
In addition, through naming opportunities available from Campaign 2020, LRC 226 has been dedicated to Peter Grose and Ruth Nye, the Bursar's Office is now the William J. and Mary C. McGurk Bursar's office, and the AST C131 Computer Lab is now the TAB Electronics Lab.
---
Mission: Manchester Community College Foundation advances the academic, economic and personal growth of diverse populations by securing funding to assist the college in achieving its mission and goals through support of programs, scholarships and equipment.