A brighter future for their family—thanks to you!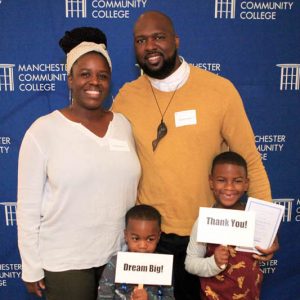 Meet Greg and LaShawnda. Greg hails from New Orleans, where he survived Hurricane Katrina. A few years ago, Greg was struck by a car as a pedestrian, leaving him unable to perform his job.
Greg and LaShawnda decided in the face of these hardships that they wanted to pursue degrees in Business and Accounting—to change the future for their family. "Between raising our two young children, working and managing full-time school schedules, it has been challenging for LaShawnda and me," Greg says.
By supporting Manchester Community College Foundation, you gave Greg and LaShawnda the gift of a lifetime—achieving their dreams. They both applied for and were granted scholarships at MCC, which he says, "provided tremendous relief in helping lighten the load of financing tuition, school supplies, books and travel costs."
After being furloughed from their jobs due to the pandemic, Greg and LaShawnda are even more grateful for you and the financial relief their scholarships provide. Because of you, they continue to thrive in the MCC community they love, where they are members of Phi Theta Kappa and Alpha Beta Gamma Honor Societies. They look forward to graduating this December and using their degrees to ensure a more stable future for their family.
Greg and LaShawnda are just one example of how you help MCC students of all ages, incomes and backgrounds succeed. On behalf of Greg, LaShawnda and all our students who benefit from your generosity, thank you!
---
Thank you.
Manchester Community College Foundation is proud to share some incredible financial milestones from the past year—made possible through your support and the generosity you inspire in others.
Ensuring access to education through scholarships
430 students received $450,000
90 alumni donated $59,000
One alumni joined the Legacy Society with a $40,000 bequest
Fundraising through our community of learners
$6,000+ through the MCC Runs Scholarship Fund (2018-2019)
$1,000 through Facebook fundraising for Radiation Therapy programs
Providing expanded learning opportunities through grants
$15,350 for faculty-led student resources
$185,000 for technology and learning resources
For more information on how your gift is used toward helping students achieve their dreams, please visit www.MCCgiving.org.