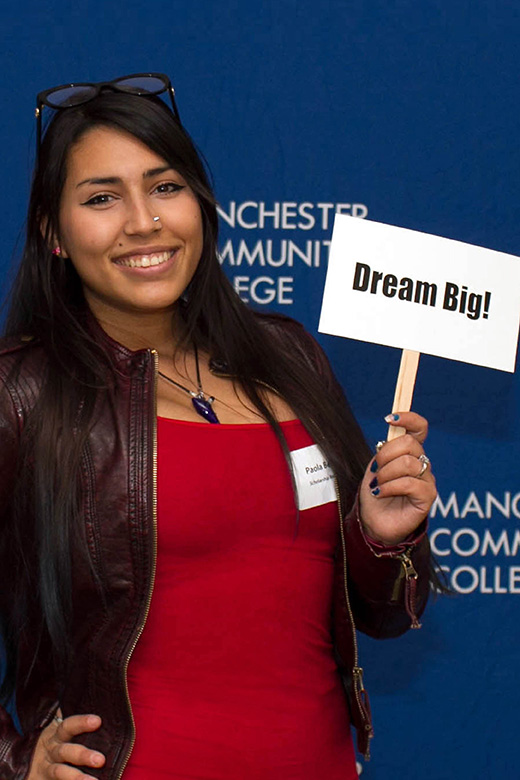 Click this image to make a gift supporting tuition assistance, student scholarships and the student emergency fund.
Our Mission
Manchester Community College Foundation advances the academic, economic and personal growth of diverse populations by securing funding to assist the college in achieving its mission and goals through support of programs, scholarships and equipment.
How will Connecticut's community college consolidation affect your donation?
MCC Foundation is a 501(c)(3) organization, with assets overseen by a dedicated Board of Directors. You can rest assured that your donation will have maximum impact on students right here at our flagship Manchester campus.
Everyone deserves to be able to follow their dreams.
---
Scholarships and Course Materials
At an average of 25 years old, working and managing family commitments, MCC students are often short on time and financial resources but committed to their goals. You can make a huge difference today by giving to support tuition assistance and providing funds for course materials that typically cost hundreds of dollars. Without support from people like you, the prohibitive cost of education would leave many dreams unrealized.
Ease the Burden: Help provide tuition assistance to a student.
Students: Scholarship application information.
---
Emergency Fund
A small problem can have a big impact for students who are already struggling to make ends meet. The emergency fund helps students when a challenge poses a threat to their ability to complete their degree. From purchasing a flash drive for storing work completed in the library to assisting in cases of homelessness, the emergency fund can help provide short term relief while dedicated staff help the student identify longer-term solutions.
Life happens. Help be the solution that keeps a student on track towards their dreams!
---
Tools and Technology
MCC is helping to prepare Connecticut's workforce. It is imperative that students learn on tools that are relevant to today's workplace. When state funding falls short, MCC Foundation works collaboratively with faculty and administration to bring the best learning tools to campus.
Make an extraordinary learning experience possible at MCC.
---
Employee Giving
It's easy to become a part of the generous community of staff and faculty who give to MCC Foundation. Give online now or enroll in payroll deduction.