Enrichment and Fun at this year's Summer Excursions Program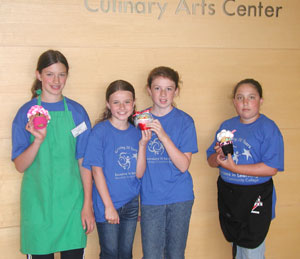 Manchester, CT – (August 10, 2007) . . . Over the summer within the corridors of Manchester Community College, you would not only see college students in class, but future musicians, scientists, and geologists in kindergarten through grade 8, engaged in the Excursions in Learning Summer program.
More than 290 children from Manchester, Bolton, East Hartford, Vernon, Glastonbury, Tolland, South Windsor, Ellington, Middletown, Hebron, Marlborough, Coventry, West Hartford and Somers participated in this two-week enrichment program for gifted and high achieving students. The fun of the summer excursions program ended for these students on Friday, August 10, with the students presenting a community open house to showcase their talents and completed projects.
Over 40 courses were featured and the activity-oriented courses include titles such as "Acting Adventures", "Blood and Guts", "Running Your Own Business", "Discovering Ancient Egypt through Art", "Computer Animation" and "Digital Scrapbooking".
"This program provides hands-on, interactive learning opportunities for not just gift children, but highly motivated, curious children," stated Susan Meisler, coordinator of youth programs for the Continuing Education Division.
Programs like "Engineer This," is new one-week program that promotes interest in engineering careers. Students learned how to design and visualize real life engineering projects using computer assisted design software. They also investigated robotics and program Legos to perform certain tasks. Both the "Design It" and "Lego Robotics" workshops are subsidized by the Connecticut Community College's College of Technology.
Another program, the Junior Culinary Camp, is a popular one-week program where students used the culinary lab at MCC to prepare a variety of tasty treats including mall pretzels, chocolate mice and potato dishes. They also learned to decorate cakes and create garnishes as part of a nutritious, fabulously delicious culinary adventure.
This year also marks the 20th anniversary for the Excursions in Learning Summer program.
Students of any age who possess the desire to pursue higher education are welcome at Manchester Community College. MCC is proud of its academic excellence, new facilities, flexible schedules, small classes, low tuition and faculty with both academic and "real world" credentials. The College offers over 60 programs, transfer options, financial aid and scholarships, as well as access to baccalaureate degrees through guaranteed admissions programs with several universities. MCC is situated on a park-like campus and is easily accessible from I-84.