Teleworking Guidelines and Resources
Teleworking guidelines
Employee expected to have daily check-in with supervisor in the morning and at the end of the day via email or phone and can direct any questions on work assignments and requirements to supervisor.
Employee expected to be performing his/her roles to the of his/her ability from home.
Employee expected to be available online via email or phone during normally scheduled hours.
Employee expected to be actively monitoring email and voicemails sent to email during normally scheduled hours.
Employee expected to be available to return to work site during normally working hours when requested by their supervisor.
Student workers permitted to telework if there is work available with supervisor's approval.
Payroll
Teleworking employee (including student worker) time reporting code: REGTC.
Non-teleworking employee (including student workers) time reporting code: LOPD (authorized paid leave).
Same codes will apply to student workers. Contact HR with questions.
Employees with direct deposit will be paid as usual.
Employees that receives pay checks and pay stubs will have them mailed directly by the State of CT Comptroller's office to "HOME" address listed in CORE-CT. If you need to change your "HOME" address please email Donna Gibson (FT and EA payroll) dgibson@manchestercc.edu; Rosario Rojas Reyes (student payroll) rrojasreyes@manchestercc.edu and Gail Zipoli (PTL and NCL payroll) gzipoli@manchestercc.edu.
Paychecks/stubs will NOT be distributed by HR/payroll, nor will employees be able to pickup pay checks in payroll.
Sick/caregiver or self-quarantined employees
Any employee that becomes ill while teleworking or acting as a caregiver for a family member that may be sick and cannot perform their duties must report their illness and/or caregiver illness status to their supervisor and should code their time sheet accordingly with the appropriate sick leave code.
Any employee that is diagnosed with COVID – 19, we ask that you notify the HR department – Patricia Lindo, plindo@manchestercc.edu/860-268-0606.
Any employee that is directed to self-quarantine we ask that you notify the HR department – Patricia Lindo, plindo@manchesterc.edu/860-268-0606.
Questions and answers
What if I think I have COVID-19?

Call your doctor: If you think you have been exposed to COVID-19 and develop symptoms, such as fever, cough or difficulty breathing, call your healthcare provider for medical advice.
Stay home except to get medical care.
Separate yourself from other people and animals in your home.
Call ahead before visiting your doctor.
Cover your coughs and sneezes.
Clean your hands often.
Avoid sharing personal household items.
Clean all "high-touch" surfaces every day.
Monitor your symptoms
If you are diagnosed with COVID-19, notify the HR department on campus [Patricia Lindo at plindo@manchestercc.edu or 860-268-0606)
Traveling
We are asking you to self-report in case there are instances of COVID-19 wherever you travel and we need to act accordingly.
If you are planning to travel out of state for vacation, please take this opportunity to share your destination information with us by submitting via  https://www.surveymonkey.com/r/XHB6JT8.
Automatic email replies and voicemail greetings
If you are setting up departmental or personal auto-replies or voicemail messages, it is very strongly encouraged that you do not specify a reopening date. Align your message with the alert sent out already and the message on the college webpage. Please use the recommended automatic reply message below:
(Begin automatic reply message)
Manchester Community College is currently operating under special conditions due to the coronavirus COVID-19 pandemic.
While our campus buildings are closed to students and the public, I am available to respond to emails on a daily basis Monday through Friday from 9:00 a.m. to 5:00 p.m. Other faculty and staff are also available remotely to and answer questions, help with online registrations, and assist with other services you may need.  Please visit https://www.manchestercc.edu/about/covid-19/ for related updates.
Helpful campus contacts
While campus is closed and classes are being moved online, Enrollment Services and Academic Advising are still available.
Use these links to reach out with questions or to access services and contact information for our various offices, just like you always have:
Be sure to monitor the MCC's website for important information and announcements going forward. 
(End automatic reply message)
To set up an auto-reply via Outlook on the Web please see the following article:
https://support.office.com/en-us/article/send-automatic-out-of-office-replies-in-outlook-on-the-web-0c193ab0-b9e1-4058-84be-a5b014242290
Managing shared departmental email via Outlook on the Web
The following link provides direction on opening and managing shared departmental email mailboxes via Outlook on the web:
https://support.office.com/en-us/article/add-a-shared-mailbox-to-outlook-on-the-web-98b5a90d-4e38-415d-a030-f09a4cd28207
If you need to set an auto-reply for a departmental email account, you first need to sign into your college email, then open the departmental email in a separate browser window (covered in the link), and then set an auto-reply (covered in the link in the automatic email reply section).
Resources for teleworking
To reach your voicemail from home
Dial 860-512-3004, Enter ID (x23456#) Enter PIN followed by #)
To access Office 365 (Your email, Your documents on OneDrive for Business, Teams, etc.) from home
Log onto  Office 365 at https://office.com  using your NetID and Password
To access the Enclave from home
Open a web browser and go to https://Enclave.ct.edu  Log in as usual.
Note: if you have multi factor authentication set to ring your office phone you will need to log on to https://mfa.ct.edu and make the changes necessary to ring either your cellphone or your home phone. For more information on multifactor authentication please refer to: https://supportcenter.ct.edu/Service/MFA.asp
To set up a WebEx Meeting
Go to  https://ctedu.webex.com/ 
Login in the upper right corner using your NetID (full)
If you have never used WebEx and established a first access, you will receive an email to verify your address (check junk/spam)
Once in WebEx, make sure you can see the menu by clicking the menu icon Schedule a meeting by clicking the WebEx Meetings tab and selecting "Schedule a meeting."
Follow the prompts.
WebEx tutorials and videos
To set up a Teams Meeting
Log in to Teams at https://office.com using your NetID
Click on the Calendar Icon on the left
Your Calendar will pop up and you will see "NEW MEETING" in the upper right
Create your meeting, invite participants (from address book or from email address you have for participants.)
There is no reason to schedule within a channel
Visit the Microsoft Office support page for more details.
All other resources for faculty and students of the CSCU system
Connecticut Community Colleges Online Help Desk
Microsoft is making the PBX capability in Teams available to universities and K-12 schools for the next 6 months.  Specifically, an 800 number for remote call in is now available in Teams. 
All faculty or staff members now have these licenses, and you should have received a notification email from Microsoft with the subject: Microsoft Audio Conferencing.  If you have not seen such a notice, please check your spam/junk/other/clutter folders just in case.  The first part of the message looks like the screenshot below (the main content in the screenshot is "You now have Audio Conferencing for Microsoft Teams or Skype for Business Online – Here is your dial-in information and PIN") and is followed by your new conferencing number.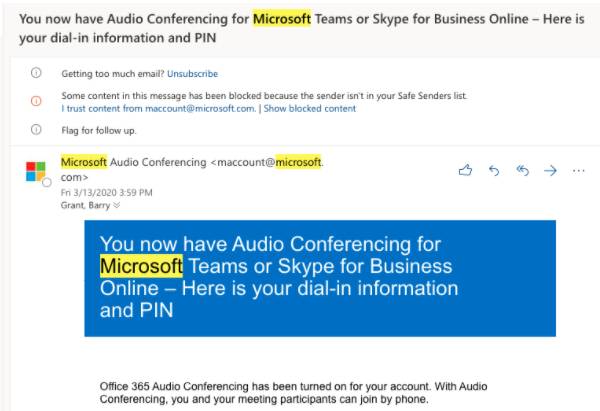 Additionally, Microsoft has passed along the following documentation and training materials to support institutions that choose to use Teams for virtual learning and/or working.
To learn more about Microsoft Teams and how to get started, you can see all the Microsoft Teams for Education webinars.
Please contact the Help Desk with questions via email at ma-helpdesk@manchestercc.edu.
We will continue to keep you informed as we all work together through these challenging times. Please continue to monitor your emails and the MCC website.