Eating Right Can Be Fun: Cool Kids' Cooking Day at MCC
Manchester, CT – (August 23, 2007) . . . A cheeseburger or veggie wrap. If you were a kid, which would you choose? Selecting unhealthy food choices may become habit for many children, resulting in childhood obesity. The American Culinary Federation (ACF) Chef and Child Foundation, in partnership with Manchester Community College culinary chefs, joined forces with the Kids Café program and the Boys and Girls Club of Hartford to teach children how to prepare healthy snacks and meals that are good to eat, as well as good for them. This idea turned into an interactive, fun cooking program, called the Cool Kids' Cooking Day.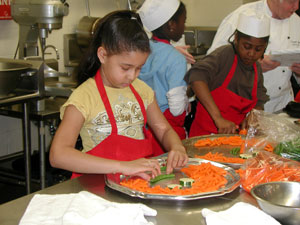 The Cool Kids' Cooking Day program spends an entire day teaching children the importance of the food pyramid, eating right and exercising, as well as how to prepare easy, healthy meals such as turkey wheels and banana/berry smoothies. Volunteer chefs from the ACF and from around the region participated in the program to provide hands-on training to these young chefs, ages 7 to 11. The goal is for these children to learn healthy food choices, basic cooking techniques and how to prepare nutritious foods. The program hopes the skills will serve the children well as they develop and raise families of their own, eventually breaking the cycle of bad eating habits and poor nutrition.
The participants in the program live in the Hartford area and attend the Boys and Girls Club of Hartford. Chad Williams, program coordinator for the Boys and Girls Club, mentioned that childhood obesity is a problem for many of the children he works with. "Childhood obesity is a trend in our community and it's a combination of unhealthy eating habits and lack of physical fitness," stated Williams. "When kids can select a cup of fruit or a bag of chips- most select the chips, but we are hoping that programs like Cool Kids' Cooking can show them other ways to eat healthy."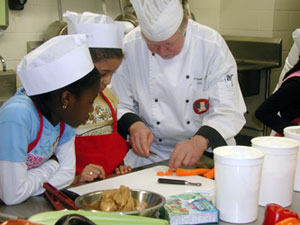 The Kids Café is a program that provides nutritious meals to hungry children after school. This program often takes place in existing after-school programs, where enrichment programs are already in place.
The Cool Kids' Cooking program was coordinated by MCC's Chef Sandra Jenkins and Chef Linda Coons and will be offered during the fall semester. Other participants included Chef Ken Johnson, Chef Frank James, and MCC Culinary Arts students. For more information about Cool Kids' Cooking, contact Chef Sandra Jenkins at 860-512-2766.
Students of any age who possess the desire to pursue higher education are welcome at Manchester Community College. MCC is proud of its academic excellence, new facilities, flexible schedules, small classes, low tuition and faculty with both academic and "real world" credentials. The College offers over 60 programs, transfer options, financial aid and scholarships, as well as access to baccalaureate degrees through guaranteed admissions programs with several universities. MCC is situated on a park-like campus and is easily accessible from I-84.