Dr. Edward R. Braithwaite author of "To Sir, With Love" Named Visiting Professor at MCC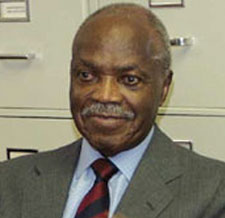 Dr. Edward R. Braithwaite
Manchester, CT – (February 3, 2006) . . . Dr. Edward R. Braithwaite, author of To Sir, With Love, has been named a distinguished visiting professor at Manchester Community College during the Spring 2006 semester, announced Dr. Jonathan M. Daube, president of Manchester Community College.
Braithwaite is a novelist, writer, teacher and diplomat from Guyana, best known for his stories of social conditions and racial discrimination. The book To Sir, with Love (1959) was based on his experiences a schoolteacher in the East End of London. The novel was adapted into the 1960's critically acclaimed film starring Oscar-winning actor Sydney Poitier. While writing the book, Braithwaite turned to social work, which resulted in his second novel, Paid Servant (1972).
"I have known Ted Braithwaite for over forty years; we first met in the U.K," said Dr. Daube. "He is passionate and caring, and has a profound respect for the English language and the mission of the community colleges."
Braithwaite will deliver lecture, to MCC faculty and students on Wednesday, February 8, and Thursday, February 9. He will return on Friday, March 3 to address new faculty from the twelve Connecticut Community Colleges. On Friday, April 21, Braithwaite will meet with students and faculty from Great Path Academy, MCC's middle college high school; and later that day he will deliver a lecture to MCC's Older Adult Association. On Thursday, May 25, Braithwaite will serve as the keynote speaker for the 42nd Commencement Exercises at MCC.
Braithwaite graduated from Cambridge University, Cambridge, England with a degree in Physics. He also received honorary doctoral degrees from Oxford University and the University of Paris-Sorbonne.
Braithwaite's numerous writings have primarily dealt with the difficulties of being an educated person, a black social worker, a black teacher and simply a human being in inhumane circumstances. The former representative to the United Nations for Guyana, he is now living in Washington, D.C, and recently retired as Writer in Residence at Howard University.
Braithwaite first visited MCC in September 2005, where he delivered a public lecture as well as met with MCC faculty and students.
For more information on Dr. Braithwaite's visit to MCC, contact Lillian Ortiz at 860-512-2902.
Students of any age who possess the desire to pursue higher education are welcome at Manchester Community College. MCC is proud of its academic excellence, new facilities, flexible schedules, small classes, low tuition and faculty with both academic and "real world" credentials. The College offers over 60 programs, transfer options, financial aid and scholarships, as well as access to baccalaureate degrees through guaranteed admissions programs with several universities. MCC is situated on a park-like campus and is easily accessible from I-84.