Thursday, May 24, 2018
54th annual Commencement Ceremony
Graduating Students, Family and Friends: Share Your Thoughts, Photos and Videos using #MCC_CT2018
Instagram · Twitter · Facebook
Bicentennial Band Shell
The 54th Commencement Ceremony was held on Thursday, May 24, 2018 at 5:30 p.m. at the Bicentennial Band Shell on the campus lawn.
Press Releases and Speeches
MCC Graduates 701 at 54th Annual Commencement Ceremony
MCC Announces Salutatorian and Co-Valedictorians for Class of 2018
Robert Bailey – Class of 2018 Co-Valedictorian Address
Victoria Turk – Class of 2018 Co-Valedictorian Address
MCC Announces Class of 2018 Recipients of Regional Advisory Council, President's Student Awards
Michael G. Polo to Receive Honorary Associate Degree
Commencement Speaker
Jay Williams
President, Hartford Foundation for Public Giving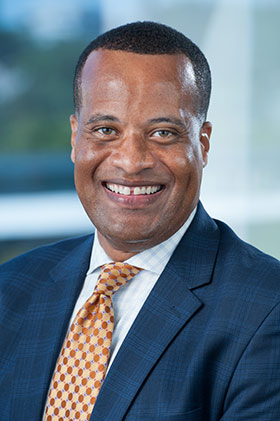 Since July 2017, Jay Williams has served as president of the Hartford Foundation for Public Giving, the community foundation for the 29-town Greater Hartford region, and one of the oldest and largest community foundations in the country. During his time at the Foundation, Williams has been working to build stronger relationships between the Foundation and the local communities it serves. In 2018, Williams and the Hartford Foundation embarked on the "Greater Together" listening tour series to connect with local residents who know what's best for their communities and identify new ways the Foundation can help make their towns even better places to live, work and raise a family.
Prior to coming to the Hartford Foundation, Williams served as U.S. Assistant Secretary of Commerce for Economic Development where he led the federal economic development agenda for the United States. He brings experience and knowledge in capacity building, workforce readiness, economic security and urban revitalization.
Mr. Williams also served as Deputy Director of the Office of Intergovernmental Affairs at the White House, where he was the principal liaison between the President of the United States and local elected officials. Previously, he served as the executive director of the federal Office of Recovery for Auto Communities and Workers. Williams came to Washington, DC after serving as Mayor of the City of Youngstown, Ohio for over five years, where he helped lead regional economic development initiatives to improve the city's global competitiveness.
Prior to being elected Mayor, Williams led a Community Development Agency in Youngstown. There, Williams was instrumental in implementing Youngstown 2010, a city-wide redevelopment plan aimed at re-shaping the city. Williams began his career in banking and serving as an executive in community banking in Ohio. He also served as an examiner for the Federal Reserve Bank of Cleveland.
A native of Ohio, Mr. Williams received his bachelor of science degree in business administration, majoring in finance from Youngstown State University. Williams currently resides in West Hartford with his wife and son.
The Hartford Foundation for Public Giving is the community foundation for Hartford and 28 surrounding communities. Made possible by the gifts of generous individuals, families and organizations, the Foundation has awarded grants of more than $720 million since its founding in 1925.