Connecticut Attorney General William Tong to Speak at MCC as Part of "Constitution Day" Lecture Series
MANCHESTER, Conn. (September 19, 2019) – Attorney General of the State of Connecticut William M. Tong will deliver a talk at Manchester Community College entitled, "Federalism and the U.S. Constitution" on Tuesday, September 24 from 11 to 12:20 p.m. in the SBM Charitable Foundation Auditorium. The talk is free and open to the public. Convenient parking is available in West Lot.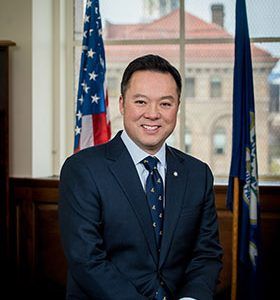 Tong is participating as part of the college's "Constitution Day" lecture series, which is held annually in September to commemorate the birth of the U.S. Constitution. He will focus on the role of the state's attorney general with respect to federal government policy and federal court rulings, including touching on issues related to recent decisions affecting civil and voting rights, and consumer protection.
Tong is the state's 25th Attorney General and the first Asian American in Connecticut to be elected a constitutional officer at the statewide level. Before his election as attorney general, he served for 12 years in Connecticut's General Assembly, representing the 147th District, which includes North Stamford and Darien. Most recently, he served as chairman of the Judiciary Committee, where he was responsible for all legislation related to constitutional law, criminal law, civil rights, consumer protection, probate, judicial nominations and the Judicial branch, and major areas of substantive law. During his service in the legislature, Tong helped pass several important landmark legislations. Tong is a Connecticut native who grew up in the Hartford area and attended West Hartford schools.
He holds degrees from Brown University and the University of Chicago Law School and has practiced law for the last 18 years as a litigator in both state and federal courts, first at Simpson Thacher & Bartlett LLP, in New York City, and for the past 15 years at Finn Dixon & Herling LLP, in Stamford.