Alumni Success: Pena-Sulantay Finds Direction and Inspiration at MCC
Manchester, Conn. (June 19, 2017) – Fernanda Pena-Sulantay, a native of El Salvador, considers her associate degree in Engineering Science from Manchester Community College not just an achievement, but an honor. Pena-Sultanay graduated summa cum laude from MCC's Honors College at the 53rd Commencement Exercises on May 27.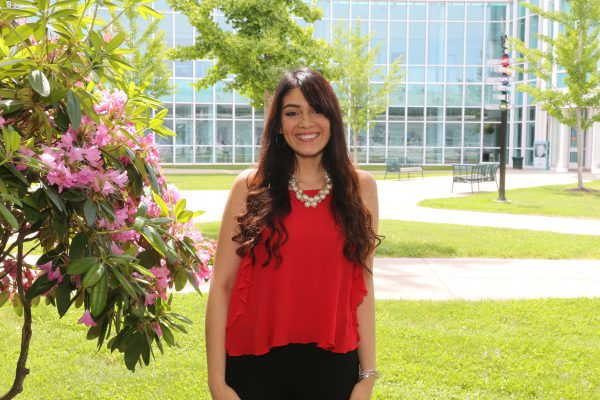 As an international student, Pena-Sulantay considers the "with Honors" designation on her diploma to be especially noteworthy. When she first came to Connecticut, she had difficulty speaking English. She spent hours at the library, and taught herself the language.
"I first took ESL courses to help me, but after that I would go to the library and pick up children's books to read. Reading children's literature has helped me a lot," said Pena-Sulantay, who now resides in Middletown.
She chose MCC mainly for the fact that it was a straightforward application process. "When I first came to Connecticut, my dad – who has been here for a few years – told me that MCC was the best choice to go to college, especially since the application is an easy process," she said.
Eventually enrolling in the Honors College helped her challenge herself even more and led to a series of impressive next steps. "I was nominated to Phi Theta Kappa and Epsilon Pi Tau honor societies," she said. "This summer, I will be attending Princeton University to be a research assistant in Molecular Biophysics, and then I will be going to UConn this fall to study Chemical engineering. MCC
Honors College helped me build better research skills, so this has definitely prepared me for my next steps."
The Molecular Biophysics REU Program at Princeton University offers non-Princeton undergrads research experience for those who have limited research opportunities in the mathematical and engineering field at their college. Pena-Sulantay credits Professor Negussie Tirfessa for exposing her to the Princeton opportunity.
"Professor Tirfessa invited Professor Carey from Princeton to give a presentation at MCC," Pena-Sulantay said. "I attended the presentation and introduced myself there, and I gave her my business card. Professor Tirfessa wrote a recommendation letter on my behalf, and so did Professors Paul Edelen and Jean Wynn."
The representative from Princeton told Pena-Sulantay that she remembered her because not many students have business cards.
In addition, the Honors College curriculum provided a great advantage, according to Pena-Sulantay, and she recommends it to every MCC student. She received plenty of support from faculty when it came time to enroll.
"Professor Sarah Cieglo helped me through the application process and, after I was in the program, both she and Professor Patrick Sullivan helped if I had any questions," Pena-Sultanay said. "Sarah was always very helpful. Patrick motivated me to apply for the Phi Theta Kappa scholarship, and if it wasn't for him I would not have applied."
In 2014, MCC enhanced its honors program with the creation of the Honors College, enabling students to graduate "with Honors" and have the accomplishment noted on their diploma and transcripts. Sullivan and Cieglo serve as Honors College coordinators.
"This program helps students demonstrate high levels of motivation and performance to prospective employers and maximize their opportunities to successfully transfer to baccalaureate institutions," Sullivan said.
Students are provided with a faculty mentor in their field, and they complete additional requirements such as a list of extra-curricular activities, a reflective essay and a capstone project.
As she departs MCC, Pena-Sulantay shares additional advice for incoming students and anyone considering MCC.
"There are a lot of opportunities here at MCC, such as scholarships, clubs, and meeting others who will help you achieve your goals," she said. "Not only did the Honors College help me with my research skills, but it also made me realize that I love to teach and help others. MCC has helped get me where I am today, and I couldn't do it without the helping hands I received here."
Of her anticipated Princeton experience, she added, "I expect to gain research experience and to enhance my chemical engineering and lab skills. Also, I expect to increase my network with long-lasting relationships and future business partnerships. Most importantly, I hope I can be as useful to them as they are going to be to me."