Alumni Success – MCC Graduate Turned it up a Few Degrees to Earn Full Scholarship to NYU Stern
MANCHESTER, Conn.  (October 16, 2020) – When Kenneth Sanders II '17,'19,'20 returned to Manchester Community College after 10 years away from his educational goals, he knew he had something to prove – mainly to himself.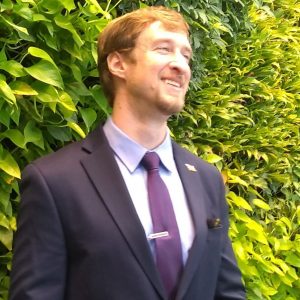 Not entirely ready for college when he first began in 2007, Sanders stopped out soon after starting. According to him, he did other things – "including binge watching movies and hours of video games" — before returning.
Today, after earning three associate degrees and a certificate, Sanders more than proved himself. The East Hartford native is now a Pamela J. Craig Scholar at New York University Stern School of Business, where he is working on a bachelor of science degree. The competitive scholarship provides much-needed financial aid to community college transfer students. Up to two full two-year scholarships are awarded to incoming juniors each academic year.
"There are many times in my story where it could have stopped," he said. "I know many can relate. Giving up is not an option. You can find a way."
Sanders holds associate in science degrees in accounting and business, marketing, and business administration from MCC. He also earned a certificate in marketing during his studies at the college.
He credits MCC with giving him the focus to succeed. "I have MCC clubs, students and teachers to thank for helping me in my journey," he said, adding that he was able to get his grades up and, with the help of "great people and prioritizing school and extra-curricular activities, join the Alpha Beta Gamma business honor society and Phi Theta Kappa." He served as vice president of finance for the latter. He also volunteered for MCC Foundation's annual Evening of Fine Food and Friends – which raises funds for scholarships and programs at the college – and was an active member of Applied Business Concepts Club. He twice participated on the Boston Federal Reserve Economic Research Project team.
Sanders said he was shocked when he learned that Stern not only accepted him, but awarded him the full scholarship. "To anyone who has doubts, know that you can do it too," he said. "Keep focused, eliminate distractions, give it your all and your hard work will pay off."