Alumni Success: Diane Lareau AmEnde '19 Achieves a Dream with Attitude at MCC
MANCHESTER, Conn. (June 25, 2019) – Diane Lareau AmEnde '19 – a recent MCC graduate and recipient of a Board of Regents Medallion for Academic Excellence (4.0 GPA) – learned the value of "attitude" during her years pursuing an associate degree in general studies.
For Lareau AmEnde, a resident of Amston, the degree was a truly personal achievement. After starting at MCC twice previously — once when she got out of the U.S. Marine Corps in 1982, and again 10 years later as the single mother of two small children – she had to stop out both times for personal reasons.
This time at MCC she meant business. She enrolled in classes that met in the evening, while working 45 to 60 hours a week. She was determined to give 100 percent, but her degree wasn't for professional goals. "This had nothing to do with my career," she said. "It was something I had to prove to myself. I had to prove to myself that I was smart enough to earn a college degree."
Sh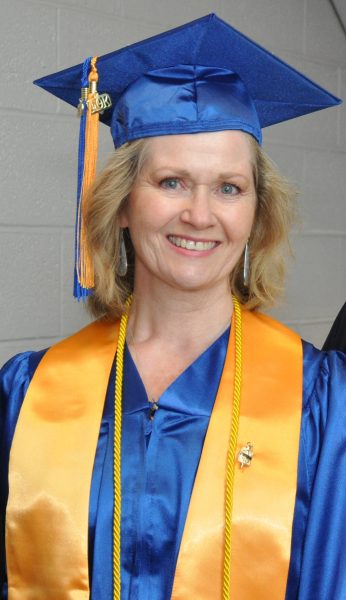 e returned to MCC via the Adults in Transition program in 2015, attending classes in the evenings. In the first class she took – English Composition – she read an essay about literacy that drove home the value of education.
"My classes taught me how to be a 'critical thinker' – someone who instead of sitting on the sidelines can participate in the debates and conversations of the world in an active and empowered way," she said.
She said she owes her success this time to the supportive faculty and staff at MCC, but also to her now adult daughter and son, Amanda and Alex Opuszynski, as well as her husband of 25 years, Doug AmEnde.
They taught her the importance of attitude. "Ability determines what you're capable of," she said. "Motivation determines what you do. Attitude determines how well you do it."
In addition to her studies, she started an Adult Student Network that she ran for a year, got involved in Phi Theta Kappa, the internationally acclaimed honor society recognizing the academic achievement of associate degree students, as a co-vice president and volunteered at events. With her associate degree in hand, she hopes to give back after she retires by volunteering as a tutor. Recalling that essay on literacy, she said, "It would be amazing to affect an adult and their children, as well as their impact on their own community's potential, by helping people improve their literacy skills."