Mishi-maya-gat Spoken Word & Music Series
12th season continues this spring!
Featured musicians, poets and writers from New England, New York and beyond
Fall and spring events from 6:30 p.m. to 9:00 p.m.
Free and open to the public
Sponsored by the MCC Foundation and the Town of Manchester's Downtown Arts and Culture Grant Program
Hosted by Stephen Campiglio
All Mishi-maya-gat events are held at 903 Main Street in Manchester, in Manchester Community College's Dehn Gallery.
---
Thursday, March 15
Chat Noir, jazz & DeMisty D. Bellinger, poet/writer
8:00 PM – CHAT NOIR – gypsy jazz quartet
Chat Noir celebrates tunes from the Great American Songbook, as well as performing their own swinging take on songs from the traditions of European countries, including France, Italy and Russia, all performed in the style of the great jazz legend Django Reinhardt. The band includes musicians from a variety of musical backgrounds, coming together to promote and continue the great traditions of Django.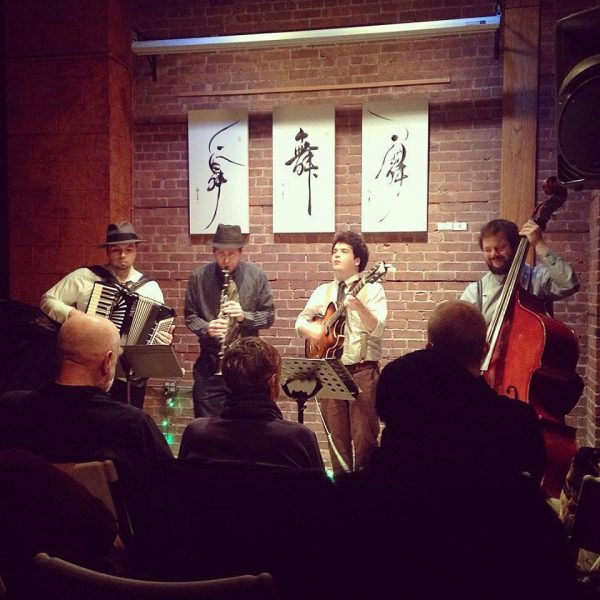 Left to right in photo: Markus Centola, accordion; Andrew Studenski, clarinet; Dan Liparini, guitar; and David Uhl, bass.
Markus Centola, accordionist and M.M. from The Hartt School, performs with Argentine tango ensemble, InfiniTango, and the gypsy jazz group, Chat Noir, and teaches private lessons in accordion, piano and violin, He is a music instructor for Credit-Free Programs at Manchester Community College.
Dan Liparini is a guitarist, composer and bandleader, based in Hartford. A graduate of The Hartt School, he has had the opportunity to study with some of the great educators and musicians in New England. He regularly performs around Connecticut and New York as both a sideman and a bandleader.
Clarinetist Andrew Studenski serves on the faculty of The Hartt School, Bay Path University, and the Hartt Community Division, where he teaches private lessons, chamber music and courses on teaching woodwinds. An eclectic performer, he can be seen playing flute, clarinet and saxophone at Goodspeed Opera House and Bushnell Center for the Performing Arts, and has appeared with the Hartford, New Haven and Greater Bridgeport Symphony Orchestras.
David Uhl is one of the busiest and most versatile bassists in Connecticut. Since graduating from The Hartt School in 2011, he has established an extremely eclectic career performing with groups like The Jolly Beggars (traditional Celtic), Ed Fast and Conga Bop (Latin jazz), and Chat Noir (gypsy jazz). He can also be found performing in the pit for some of the area's most well respected theaters, including the Norma Terris Theatre in Chester and Yale Repertory Theater in New Haven, as well as with the Greater Bridgeport, Wallingford and Waterbury symphonies. David is also a faculty member at the Regional Center for the Arts in Trumbull and a music instructor for Credit-Free Programs at Manchester Community College.
6:30 PM – DEMISTY D. BELLINGER, poet/ writer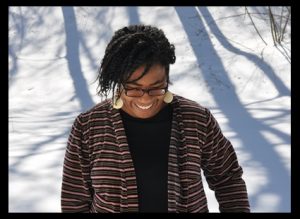 DeMisty D. Bellinger was born and raised in Milwaukee, and earned her B.A. in English at the University of Wisconsin, MFA in Creative Writing from Southampton College on Long Island, NY, and a Ph.D. from the University of Nebraska, where she focused on creative writing in fiction. In 2012, she attended Bread Loaf Writers Conference for fiction. She is a professor of Creative Writing, Women's Studies, and African-American Studies at Fitchburg State College in Massachusetts.
DeMisty has earned many accolades for her writing, including the Mari Sandoz/Prairie Schooner Award in Short Fiction and a Vermont Studio Fellowship in 2015. Her short-short, "Tiger-Free Days," was listed in the Wigleaf Top 50 Very Short Fictions of 2014.
Many of her poems, short stories, and essays can be found online in various publications, including Helen, Necessary Fiction, Driftless Review, WhiskeyPaper, Blue Fifth Review, and Former People: A Journal of Bangs and Whimpers. DeMisty also has a poem in Nasty Women Poets: An Unapologetic Anthology of Subversive Verse, published by Lost Horse Press. Her chapbook, Rubbing Elbows, was published in 2017 by Finishing Line Press.
In addition to teaching and writing fiction and poetry, DeMisty plays viola with a community orchestra. For more information, please visit her website: www.demistybellinger.com.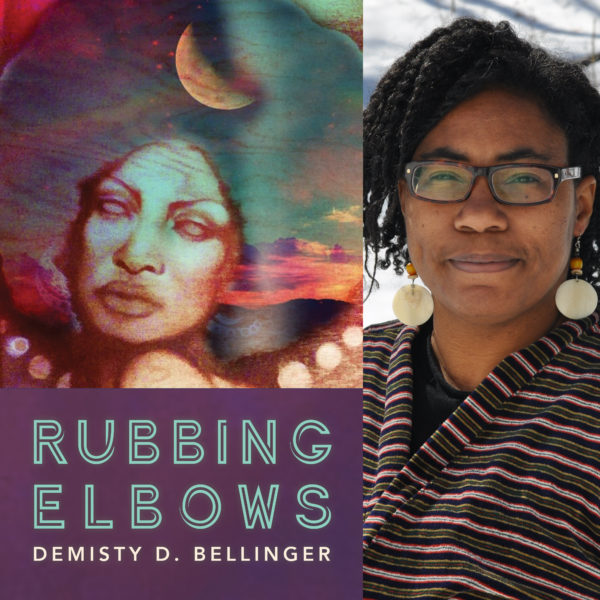 ---
Mishi-maya-gat

Mishi-maya-gat is the Algonquin term for "Great Trail," a network of foot paths created by the indigenous tribes of New England. The site of the MCC campus is along one of these great trails, which led to the naming of Great Path as the road leading into campus. In this spirit of historical and cultural significance, the performing arts series takes its name.
UPCOMING EVENTS
April 19
6:30 PM – PETER GIZZI, finalist for the 2016 National Book Award with his collection of poetry, Archeophonics; www.petergizzi.org plus poet JON RUSESKI, author of the debut collection, Space Mountain.
8:00 PM – Music TBA
May 17
8:00 PM – CUATRO PUNTOS, string quartet
Kevin Bishop, viola
Allan Ballinger, cello
Aaron Packard, violin
Annie Trepanier, violin
6:30 PM – Poets TBA
---
To join the mailing list and receive a flyer via email, please send your email address to Stephen Campiglio, series coordinator, at scampiglio@manchestercc.edu.