Mishi-maya-gat Spoken Word & Music Series
Now in its 11th season
Featured musicians, poets and writers from New England, New York and beyond
Fall and spring events from 6:30 p.m. to 9:00 p.m.
Free and open to the public
Sponsored by the MCC Foundation and the Town of Manchester's Downtown Arts and Culture Grant Program
Hosted by Stephen Campiglio
---
Note: All Mishi-maya-gat events are held at MCC on Main, Manchester Community College Arts and Education Center, at 903 Main Street, downtown Manchester.
---
Mishi-maya-gat

Mishi-maya-gat is the Algonquin term for "Great Trail," a network of foot paths created by the indigenous tribes of New England. The site of the MCC campus is along one of these great trails, which led to the naming of Great Path as the road leading into campus. It is in this spirit of historical and cultural significance that the performing arts series takes its name.
THURSDAY, MAY 18
JASON KAO HWANG / HUMAN RITES, jazz/"new music" trio; and poets DAVID GIANNINI and JAYNE BENJULIAN
8:00 PM – From New York City – HUMAN RITES
ANDREW DRURY, drum set; KEN FILIANO, string bass; and JASON KAO HWANG, violin/viola/composer
In Human Rites, each musician, empowered to be who they are, is summoned by Jason Kao Hwang's compositions to bring vibrations of the past and future into resonance. This is the music of freedom and respect that revives, inspires and unifies the human spirit. Since 2004, Andrew Drury and Ken Filiano have been central collaborators in Jason Kao Hwang's ensembles, which include the quartet, EDGE; octet, Burning Bridge; quintet, Sing House; and orchestra, Spontaneous River. As Human Rites, this is their first appearance as a trio.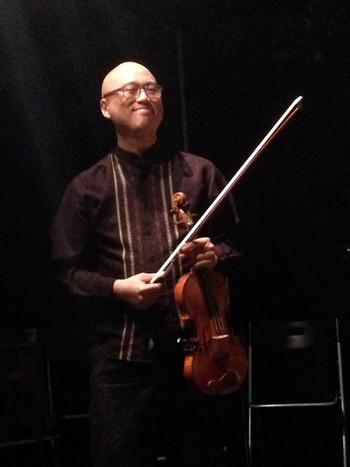 Jason Kao Hwang (composer/violin/viola) has created works that range from jazz and "new" to world music. Recently, he released the CD, VOICE, and Burning Bridge, his octet of Chinese and Western instruments commissioned by Chamber Music America, performed at the Magic Triangle Series (UMass, Amherst) and the International Festival Musique Actuelle (Canada). Also, his symphony, The Challenge: Tiananmen Square, commissioned by the Multicultural Music Group, premiered at Lehman College. In 2014, Zizal, his duo CD with Ayman Fanous, was voted into the second round of the Grammy Awards. In 2012, National Public Radio selected Burning Bridge as one of the year's top CDs, and the Downbeat Critics' Poll voted him "Rising Star for Violin." In 2011 and 2012, the critics' poll of El Intruso voted him #1 for Violin/Viola. He also released Symphony of Souls (Mulatta), performed by his string orchestra, Spontaneous River, and Crossroads Unseen, the third CD of his quartet EDGE. In 2010, the NYC Jazz Record selected Commitment, The Complete Recordings, 1981-1983, from a collective quartet that was Mr. Hwang's first band, as one of the "Reissued Recordings of the Year." As violinist, Mr. Hwang has worked with Will Connell, Jr., Butch Morris, Pauline Oliveros, William Parker, Anthony Braxton, Yoshiko Chuma, and many others. For more information on the musician, please visit his web site: www.jasonkaohwang.com.

Andrew Drury (drums) has played with Jason Kao Hwang and Ken Filiano since 2004 in quartet, quintet, octet, tentet, string orchestra, and now trio formations. Originally from Seattle, Drury studied with Ed Blackwell at Wesleyan University in Middletown and was part of the Connecticut jazz scene in the late 80s and early 90s, playing with Wadada Leo Smith, Bill Brown, Hotep Galeta, Steve Davis, Brad Mehldau, and others. Since then, Drury has performed on over 50 CDs and in 25 countries. As a composer/bandleader, his most recent CD, Content Provider, was selected as a "Top Ten CD of 2015" by the NYC Jazz Record and his solo CD, The Drum—on which he plays a single floor tom with no overdubs or electronics—was called "an ingenious work that highlights Drury's fertile imagination, audacious musicianship and unparalleled virtuosity" by All About Jazz. In addition to his work with Jason Kao Hwang, Drury is involved in international collaborations with musicians in Colombia, Argentina, and Germany, and in the U.S. with Frank Lacy, Robert Dick, Stephanie Richards, JD Parran, and Jack Wright. Other projects include recent work with Elliott Sharp, Thomas Buckner, Craig Harris, Howard Johnson, Tomeka Reid, and Kris Davis. He founded and curates the acclaimed Soup & Sound House Concert Series in Brooklyn, which has presented over 80 concerts with musicians from around the world. For more information on the musician, please visit his website: www.andrewdrury.com.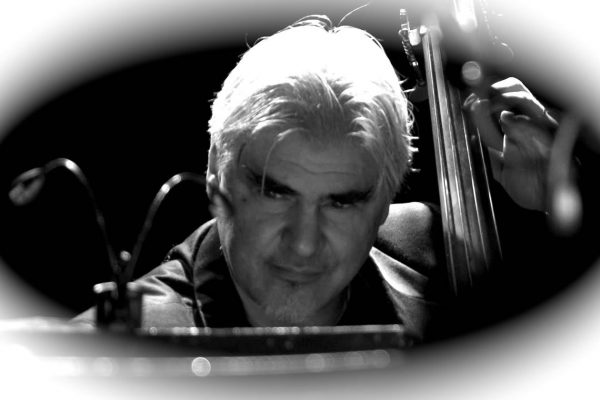 Ken Filiano is one of the most versatile and in-demand bassists working today. His extensive recording and performance resume includes work with Steve Adams, Anthony Braxton, Karl Berger, Fred Ho, Bobby Bradford, Nels Cline, Connie Crothers, Bill Dixon, Ted Dunbar, Giora Feidman, Vinny Golia, Jason Kao Hwang, Frank London, Tina Marsh, Dom Minasi, ROVA Saxophone Quartet, Roswell Rudd, Fay Victor, Andrea Wolper, Pablo Zeigler, and many others. His discography as a leader includes the solo bass CD, subvenire (Nine Winds); Dreams From a Clown Car (Clean Feed), which presents his compositions in a quartet setting, featuring Quantum Entanglements, that includes Tony Malaby, Michael Attias, and Michael TA Thompson; and Baudalino's Dilemma, with Warren Smith, Vinny Golia, and Michael TA Thompson (2014). Ken teaches master classes in double bass and improvisation.
6:30 PM – From the Berkshires of Western Massachusetts – Poets DAVID GIANNINI and JAYNE BENJULIAN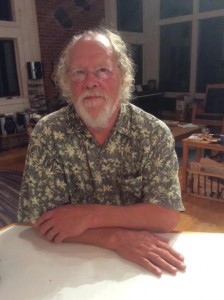 David Giannini's 2017 collections of poetry include Faces Somewhere Wild (Dos Madres Press), Four Plus Four (Country Valley Press), Rickshaw Chasm (Feral Press), and Porous Borders (Spuyten Duyvil Press). Other recent titles include Span of Thread (Cervena Barva Press), The Future Only Rattles When You Pick It Up (Feral Press), AZ Two (Adastra Press), which was a "Featured Book" in the 2009 Massachusetts Poetry Festival, and Rim/Wave (Quale Press). 13 of his chapbooks were published between 2013-2016, including Inverse Mirror, a collaboration with artist, Judith Koppel. His work appears in national and international literary magazines and anthologies. He was nominated for a Pushcart Prize in 2015, and his awards include: Massachusetts Artists Fellowship Awards; The Osa and Lee Mays Award For Poetry; an award for prose poetry from the University of Florida; and a 2009 Finalist Award from the Naugatuck Review. He has worked as a gravedigger, a beekeeper, and has taught at Williams College, The University of Massachusetts, and Berkshire Community College, as well as teaching preschoolers and high school students. Giannini was the Lead Rehabilitation Counselor for Compass Center, which he co-founded as the first rehabilitation clubhouse for severely and chronically mentally ill adults in the northwest corner of Connecticut. For more information on the poet, please visit his website: www.davidgiannini.com.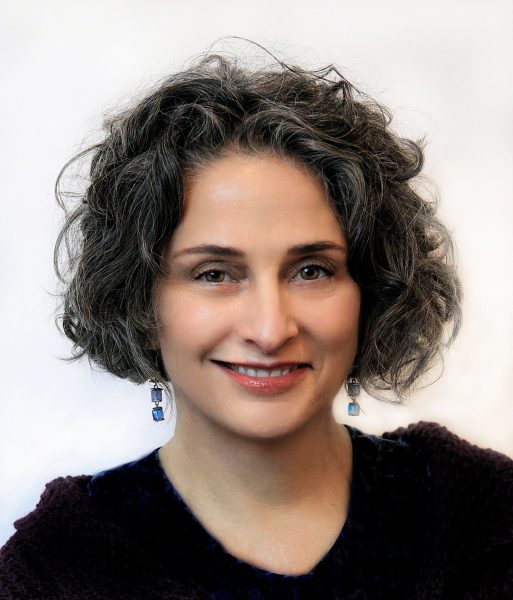 Jayne Benjulian is the author of the poetry collection, Five Sextillion Atoms (Saddle Road Press). Her poems and essays appear in numerous literary and performance journals in the U.S. and abroad, including Agni, Barrow Street, The Cortland Review, Nimrod, Women's Review of Books, Poetry Daily and HowlRound. Her careers have been as varied and the many places she has lived: she served as chief speechwriter at Apple, investigator for the public defender in King County, Washington, and director of new play development at Magic Theater. She was an Ossabaw Island Project Fellow; teaching fellow at Emory University; lecturer in the Graduate Program in Theater at San Francisco State University; and Fulbright Teaching Fellow in Lyon, France. She holds an MFA from the Warren Wilson Program for Writers and lives in the Berkshire Hills of Massachusetts, where she teaches workshops for poets and prose writers. For more information, please visit her website: www.jaynebenjulian.com.
---
To join the mailing list and receive a flyer via email, please send your email address to Stephen Campiglio, series coordinator, at scampiglio@manchestercc.edu.