5th Graders Go to College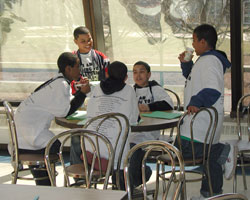 Manchester, CT (April 4, 2006) …College is normally a topic for teenagers in high school, but for the 5th graders from Hartford's Barnard Brown Elementary School, college is a hot topic. Approximately 58 students visited Manchester Community College, spending the day receiving a real world perspective of college life as part of the "5th Graders Go to College" program.
The "5th Graders Go to College" program is a collaborative effort between The Hartford Consortium for Higher Education, the Office of Hartford Mayor Eddie Perez, the Hartford Public Schools system and 13 Connecticut colleges, including Manchester Community College.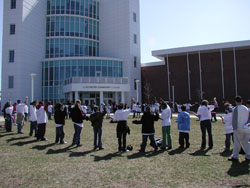 Students from 28 Hartford schools visited other colleges and universities including Yale, Goodwin College, the University of Connecticut, Capital Community College, Eastern Connecticut State University, Central Connecticut State University, Saint Joseph College, Southern Connecticut State University, Trinity College, the University of Hartford, and Wesleyan University.
Ivette Rivera-Dreyer, Director of Financial Aid, coordinated the program at MCC. Throughout the day, the elementary school-aged students visited classrooms; met facility, staff and MCC students; and participated in team-building activities. "The students really enjoyed learning about college life at MCC," stated Rivera-Dreyer. "More than half of the students have already decided to attend MCC in the future."
MCC have decided to expand this program next year by including Manchester and East Hartford elementary schools.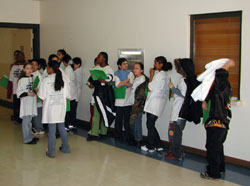 The Connecticut Association of Professional Financial Aid Administrators donated four $50 academic scholarships, which were raffled off to four students. The scholarships are for the students to attend MCC in the future. Rivera-Dreyer will serve as a mentor and match the scholarship fund with her own money. "It is all of our responsibility that children have access to a college education."
Students of any age who possess the desire to pursue higher education are welcome at Manchester Community College. MCC is proud of its academic excellence, new facilities, flexible schedules, small classes, low tuition and faculty with both academic and "real world" credentials. The College offers over 60 programs, transfer options, financial aid and scholarships, as well as access to baccalaureate degrees through guaranteed admissions programs with several universities. MCC is situated on a park-like campus and is easily accessible from I-84.